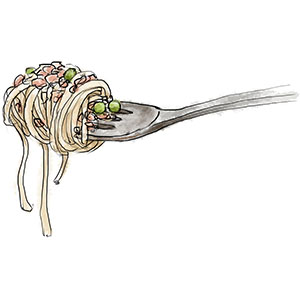 I'm just going to tell it to you straight. I love my cape. I love to sweep around the city like fashion batman. I like to wear it as often as possible.
Usually, this is about twice in Spring, and twice in Fall. Capes are tricky. And it's profoundly sad to be out and about in the world, cape-less, and realize that you missed a perfect cape opportunity. Well, profoundly sad, for a given definition of profoundly sad that's probably a bit closer to slightly miffed.
To avoid this, Jon designed an app for me for my birthday last year:
Is it cape weather?
Mostly, the answer is No.
Wrap up warm, advises the app. Too cold for capes. Or Take an umbrella, It's going to rain – no cape today. Or Hot! You don't even need a cardigan!
And then it happened.
It's officially Spring. Celebrations abound!
Spring Pea Pasta (serves 2 – easily extended for more)
At Union Square Farmers Market last week I bought a punnet of pea shoots – the very essence of Spring – which I added to this pasta at the very last moment – pasta cooked, added to sauce, pea shoots in off the heat, turned on the sauce, done. It's also good with just peas. Mostly, frozen ones.
Linguini – enough for two – whatever the packet says, plus a bit more
1/4 cup pancetta cubes
3/4 cup peas
optional couple of handfuls of pea shoots / arugula / rocket / spinach / dandelion leaves / other light greens
1 lemon
1/2 cup cream
1/4 cup white wine
salt and pepper
olive oil
 
Bring a large pot of water to the boil. Salt liberally and cook the pasta for about 1 min less than the packet instructions.
Meanwhile, fry the pancetta in a tsp of olive oil until beginning to crisp – a few minutes
Add the wine, and bubble off the alcohol for a minute. Add the cream.
Grate in the zest from half the lemon, and squeeze in half the juice.
Add the peas and cook for a few minutes until the peas are thawed and the sauce is reduced.
Drain the pasta and toss in the sauce, adding the pea shoots if using.
Serve with plenty of ground black pepper.