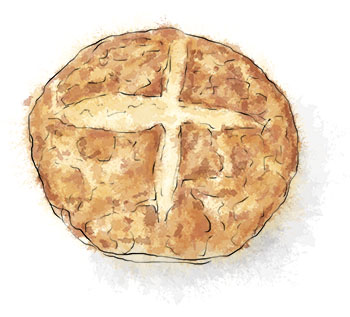 Soda bread is one of the least worrying breads to make because there's no yeast to deal with. Not that yeast is especially complicated stuff, it's just that all the proving, warming, kneading, rising business can seem daunting in a way that adding a tsp of baking soda never does.
Traditionally soda bread is baked in a round shape with a cross cut into the top. There prosaic reason for this is that it helps let out some of the steam, but there are other religious and folkloric explanations. My favorite is that the cross lets out the fairies and evil spirits. How they got in there in the first place is not explained.
I've been making Rachel Allen's version of soda bread for 8 years. The recipe was written out for me by the very sweet Irish girl that I shared a bench with at cookery school. She'd enrolled on the course because she was going to get married to someone who expected her to cook for his shooting parties and the like, and, because apparently nobody had told her that the 1950's were over, she was attempting to meet expectations.
She was a naturally terrible cook, with no patience to follow a recipe, and the sunny yet misguided hope that everything would turn out fine in the end. After a month of burning, undercooking, over salting, forgetting the sugar, and butchering (not in a good way) she was ready to throw in the towel. That's when a kind-hearted instructor took her to Waitrose and taught her how to buy ready meals, transfer them to her own cook-wear, and make a salad to go along side. This is what she duly did, and if her Christmas cards are anything to go by, it has been the recipe for a happy marriage – still set in the 1950s, with two children a red setter and a stately pile somewhere beginning with "Bally".
And yet, she could always, always turn out a perfect loaf of soda bread.
Soda Bread
This bread is perfect toasted and smothered with unsalted butter and a good blackberry jam
It's best eaten the day it is made because there's nothing in it that acts as a preservative.
450 g flour
1 tsp sugar (ideally super-fine or caster)
1 tsp bicarbonate of soda
1 tsp salt
350 ml buttermilk (you made need a bit more – up to 450 ml
Pre-heat the oven to 425 (230 C)
Sift the flour, sugar, bicarb and salt into a large bowl, then make a well in the middle
Pour in the buttermilk, then using your hand as a claw, pull the flour into the milk and bring the dough together (If the dough is really dry, add more buttermilk). Don't knead the dough – that makes it tough, just bring it together
On a floured surface bring the dough into a round about 1 ½ inches tall, then slash the top in a cross shape
Transfer to a baking tray, then bake for 15 mins
Now turn the oven down to 400 (200C) and bake for 25mins
Turn the bread upside down and bake for another 5 mins. It should be golden brown and sound hollow when tapped
Cool on a wire rack before eating
Just because I've given up chocolate for Lent doesn't mean I can't dream about chocolate soda bread – add at least ½ cup of chocolate chips to the dough (really delicious spread with cream cheese – don't knock it till you've tried it!)
Or add a handful each of dried cranberries and walnuts, and ½ tsp of cinnamon (I love cinnamon, so I usually add 1 tsp)
Or add a handful of grated cheddar cheese and a tbsp of chopped chives
Or a handful of cheddar cheese and a handful of cooked bacon lardons
Or a cup of fresh seedless grapes
Or a cup of pitted green olives
Or add 2 tbsp of chopped fresh herbs – rosemary and thyme is especially nice