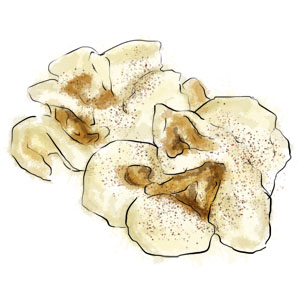 As Superbowl approaches, thoughts turn, naturally enough to food. Every year I am fascinated anew to learn that Americans will be eating 4.4 million pizzas, and 1.25 billion chicken wings.
Bad week to be a chicken. Good week to be an avocado farmer. This is the biggest selling week of the year for avocados – yes, folks, it's guacamole time.
Sticking in a Tex-Mex direction, this sweet and spicy lime popcorn is basically a margarita in popcorn form. It's exactly what you want to be eating when you're drinking beer with a lime wedge stuffed into the bottle.
Good game day stuff.
Sweet and Spicy lime popcorn (Margarita Popcorn)
Pop a bag of salted popcorn in the microwave

or put a tbsp. of oil into a pan with ½ – 2/3 of a cup of kernels and 2 tsp of salt, cover securely (really securely) with a few layers of foil, and poke a few holes in the top to let steam escape (or use a lid with draining holes), hold over medium heat and shake until popped.
¼ cup butter
1 tsp lime juice
zest of the lime
1 tsp paprika
1 tbsp sugar
 
Melt the butter and sugar over a low heat, until the sugar is dissolved
Add the lime juice, zest, and paprika
Pour over the warm popcorn