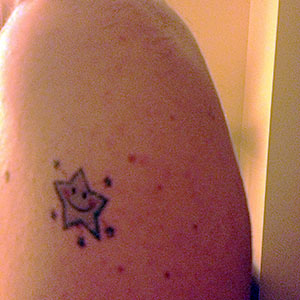 Jon and I recently went on a weekend excursion to Boston, when he took off his shirt to reveal – "Oh God! What did you do to yourself! Oh GOD!" I said.
This was probably not all Jon had hoped for. "What? What?" He was genuinely mystified.
I pointed to the tattoo of a star on his shoulder.
But even as I pointed, I was starting to question myself. Jon is about as likely to get a tattoo as he is to join a circus.
Also, the tattoo star had a smiley face. Â Had the design been a throw-back to his D&D playing youth golden dragon? Maybe. An outline of a nearby galaxy? Possibly. But a smiley star? Probably not.
You see, I had tattoos on the brain a little. Cousin Katie recently covered her forearm in delphimums, so it was on my mind.
"Daisy did it," said Jon, once he's got over the initial shock of my reaction. Daisy is our 4 year old niece. Jon had been visiting her for the week. She had a sheet of 50 temporary tattoos, and this sort of inevitably happened.
"It could be worse," he said, valiantly struggling to scrub off the ink. "Timothy (her Dad) got tramp stamped with a rainbow unicorn."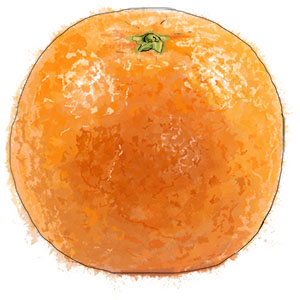 Duck with fresh orange (serves 4)
2-3 large duck breasts 
2 oranges (or 1 orange, 1 grapefruit and something sweet like a tangerine)
Olive oil, salt and pepper
Salad leaves (rocket / arugula, spinach, chicory, endive, coz or butter lettuce …something with a bit of bite and substance)
3/4 cup pitted kalamata olives
 
Preheat the oven to 400f

Season the duck breasts, and heat a griddle pan until it is searing hot (about 4 minutes).

Cook the duck skin side down for about 3 minutes without touching it. (expect smoke, open the window). 

Transfer the duck to a roasting tray and cook for 15 minutes (pinkish). 

Meanwhile, arrange the salad leaves on a plate and toss with a little olive oil, salt and pepper. Scatter olives on top

Peel and segment the oranges (with a knife) or cut into rings if that's too much fuss. 

Let the duck rest for a few minutes before slicing and arranging over the salad. Scatter the orange on top, and squeeze over the juice.