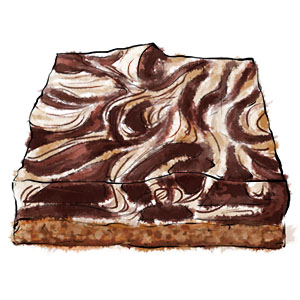 We were drinking cocktails in a bar on a weeknight – I know, life choices – when we overheard two girls talking; "Damn girl, you been working out?!"
The second girl had indeed been working out, and was happy to share the details, loudly, with her friend and half the bar.
"My ass is so tight now! Men are gonna want to hit that."
"Na ah," the friend disagreed. "Your ass is so tight, men are gonna wan to Wife That. They'll take one look and they'll be like, I am gonna Wife That. For sure."
The expression "to Wife that" meaning, presumably, to marry, filled me with delight.
It's amazing how inventive and expressive people can be. It's quite the happiest I've been since I went to a rap battle feeling terribly British and heard the expression "give him some shine!"
S'mores Bars
12 Graham Crackers (or a few more if your tray is a little bigger)
1 stick of butter
½ cup brown sugar
½ tsp salt
1 tsp good vanilla extract
3 ½ cups mini marshmallows
1 ½ cups chocolate chips (good quality ones)
 
Line the baking tray with foil leaving a generous overhand so you can use it to lift out the s'mores later. Arrange the cookies in the baking tray to form one even layer – break them into pieces if necessary
Put the butter and sugar into a pan, bring the mixture to a simmer, swirling the pan to dissolve the sugar, then simmer for 5 minutes until you have a deep caramel. Off the heat add the vanilla and the salt and stir to combine
Pour this mixture over the crackers and spread out evenly with a spatula into a thin layer
Scatter the marshmallows on top and put under the broiler (grill) until they are golden brown (or bake for 10 mins at 350f ish)
Scatter the chocolate chips over the marshmallows. Let them sit in the heat for a minute until they start to melt, then use a skewer to ripple the chocolate and marshmallow together
Refridgerate for an hour to chill and set. Remove from the tray and cut into pieces