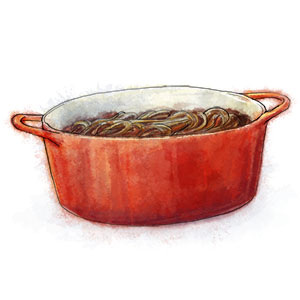 It turns out, that pretty much none of my friends has any interest in the Superbowl whatsoever, outside the context of commercials, guacamole and chocolate krispie cakes shaped into footballs. Even Carrie, who understands the rules, lost interest when her team ignominiously lost a few weeks ago. Sure, Times Square is filled with Football Fun Times and a huge plastic slide, but mostly, well, meh. 
This means that Superbowl conversations center on who's making what kind of chili, and whether tomatoes in guacamole are anathema.
This is the chili that I'm cooking – served up with tortilla chips, salsa, avocado, cheese and sour cream. Bring it on, Game Day, bring it on.
Pulled Pork Chili (serves 4-6 people)
This dish can be made in advance and refrigerated. Indeed, I think it tastes even better the next day. When you take it out of the fridge it's easy to skim the fat from the top, then re-heat in a moderate oven until the sauce is bubbling and the pork is hot.
3lb pork shoulder (this is about 1/3rd of a pork shoulder – I freeze the rest in 2.5 ish pieces for another day. Also, it should be skinless, and if there's obvious fat, trim it off.)
1 large red onion (or 2 white onions)
1 tsp crushed garlic (about 2 cloves)
1 tsp cinnamon
2 tsp coco powder
1 tsp paprika
2 tsp chili flakes (or more if you prefer hot chili)
1 tsp cumin
1 small can crushed tomatoes
1 can red beans
1 tbsp brown sugar
2 cups red wine
2 tbsp balsamic vinegar
1 star anise
Olive oil
Salt and pepper
Grated cheese, avocado slices, sour cream, tortilla chips etc to serve
 
Slice the onion and cook gently in a cast iron pan (le cruset rules here), with a pinch of salt and a splash of olive oil. Stir occasionally until the onions are a sweet brown tangle. The longer you cook them for, the better the dish. Slow for 20 mins, higher heat, maybe you can do it in 10.
Add the garlic, coco, and all the spices. Let them cook for a minute in the hot oil.
Season the pork and put on top of the onion mixture. Pour in the tomatoes, balsamic and wine, then add the sugar (everything's now in the pot apart from the beans)
Add water so that the liquid level just covers the pork.
Put the lid on and cook really really gently for 4 hours either on the stove or in a 250f ish oven. Turn the meat occasionally to keep it moist. After 3 hours, fish out the star anise.
Take the lid off for the last half hour to let the sauce reduce a bit, and add the beans to let them heat through
Pull the pork into bite-sized pieces with 2 forks, then stir into the sauce