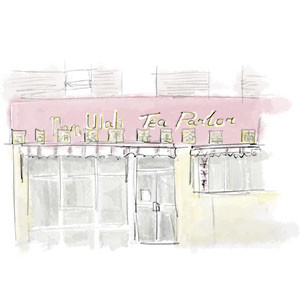 There are many excellent reasons to go to Nom Wah Tea Parlor. Off the top of my head? Celebrating Chinese New year with Sara and Mike, for example. 
Tucked into the crook of Doyer street, the faded red and yellow exterior gives the carefully cultivated impression that nothing has changed since the 1920s, when, according to the New York Times, Triads strutted the streets of Chinatown, presiding over illicit opium dens, sweat shops, and tea rooms. The nephew of the original owner now runs the joint with the panache of a next gen start up. Respectful of the traditional in that oh-so-modern way that recasts old as vintage.
Step back in time as your feet click on the tiled floor, slide into a red leather booth, and prepare to feast.
Dim sum, like all great breakfast food, makes for a brilliant dinner. Heavy on the fried. Heavy on the beige. Because the joy of dim sum is really in the variety, it's more fun to go with more people – the optimum number at Nom Wah is really 4 – that's how many fit in a booth. We happen to like Sara and Mike. We didn't use them for dim sum. Just Saying.
So here's how it works: You're given a list. You mark up what you want, hand in the list, and freshly prepared morsels are mere moments away.  "What do we want?" I asked, taking control of the pen.
"Perhaps," said Jon, "a better question would be, what don't we want?"
We started to tick. Obviously egg rolls – the best I've ever eaten. Obviously roast pork buns, fluffy and warm like Platonic pillows. Clearly the sticky rice, studded with pork and Chinese sausage, wrapped in a lotus leaf. Definitely a rice roll, maybe the scallion cilantro one this time, slippery ribbons of noodle with herbs rolled into the dough, drenched in soy. Shrimp bacon ball. What's not to like about that? Pork Sui Mai, because Jonathan, contrarily, doesn't eat shrimp.
"That seems like a lot," said Mike.
"But we didn't order pan fried dumplings yet," said Sara.
Now the second tier picks: the aforementioned pan fried dumplings. Soup dumplings. Turnip cake. Scallion pancakes. Spring Rolls. Chinese greens in oyster sauce. Because, seriously guys, we have to eat something green. What are we ? 9?
Some, just a few, things we've ordered over the years that nobody liked: Steamed Ribs – looked too spooky, too great a bone to meat ratio, not worth the work. Beef Balls. As appetizing as they sound – not the Chinese equivalent of meatballs we'd hoped for.
For less than $20 a person, you can order in the spirit of adventure, and share all this food, and drink as much tea as you could wish for. But more than a nifty night out, more than crave-able food, Nom Wah is a feeling. An old-timey, slightly shady glamor, a little grit and romance.
Nom Wah Tea Parlor – 13 Doyers Street, 212-962-6042
What's the Damage?
Pork Bun $1.95
Egg Roll – $5.95
Sticky Rice in Lotus Leaf – $5.25