Fish or Meat + vegetables + herbs + liquid = En Papillote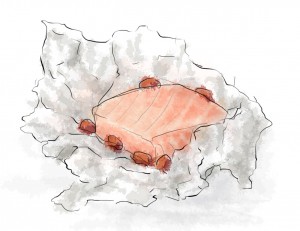 "En Papillote" is simply a way of cooking in a parcel so that the food inside can steam gently to itself, developing the flavor and creating a sauce. The little packages puff up as they cook, and can be served as they are straight onto plates. It's like unwrapping an especially delicious present.
I construct my parcels out of aluminum foil – much easier than parchment paper, and less likely to catch fire in an unreliable gas oven (a couple of close calls).
Here's what we're going to do:
Lay out a piece of foil a little larger than a sheet of printer paper
Place a base of flavor in the middle of the foil – onions, herbs, vegetables
Lay the protein on top
Top with more delicate herbs or flavors and season
Pull the sides of the foil up into a package
Pour in some liquid then seal the package tightly
Steam in the oven
If you can make that, you can make this:
What would you like to make?