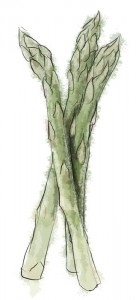 There are 2 ways for a food to qualify as an aphrodisiac. It can either contain some fantastic chemical boosting vitamins or minerals, or, frankly, it can look phallic in the right light with a pinch of imagination.
Considered by traditional Indian medicine to help improve the circulation, and by ancient Chinese medicine to increase passion and love, Asparagus, packed with vitamins A B C E and K, potassium, iodine and folate, and looking like, well, looking like asparagus, qualifies on both counts. It's not called a "spear" for nothing.
Butter sauce is one of the most decadent things to eat with asparagus in existence. This is a really simple version that only requires a moment's work before serving – nothing that would keep you in the kitchen too long on a date.
Ingredients (serves 2)
2 red snapper fillets (or any white fish fillets you like – though these have a beautiful pink skin)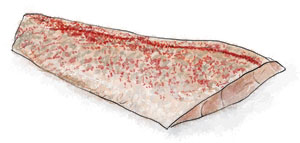 1 bunch of asparagus, with the hard white ends snapped off
1 tbsp butter (cold) cut into quarters
1tsp butter (warm)
1 ½ tbsp white wine
Salt and pepper
Lay out a double rectangle of foil about the size of a sheet of printer paper
Lay the asparagus in the middle of the foil in a line and season well.
Place the red snapper fillets on top, skin side up. Season with salt and pepper and dot with 1tsp of soft butter.
Pull the edges of the foil up and over as though you're going to make the parcel.
Pour the wine into the parcel – try not to wet the fish skin.
Press and scrunch the edges together to seal the foil.
Place in a preheated oven at 350 for 8 minutes.
Take out the fish and the asparagus and arrange on a plate.
Whisk the cold butter into the hot wine one lump at a time (I use a little salad dressing whisk, but a fork will do as long as you're careful not to rip the foil). The sauce will thicken and start to smell amazing.
Pour the sauce over the fish and asparagus to serve.
Serving Suggestions
Serve with boiled potatoes with a handful of chopped flat leaf parsley scattered on top
Or with some crusty French bread
You can find the story that inspired this recipe here.