I reckon people eat about a handful of mini cocktail sausages each, which is about 4, so I work on that basis and hope for leftovers that I can enjoy into next week. The paprika gives both heat and smoke and makes these sausages taste almost barbecued.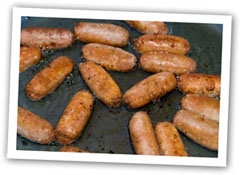 24 cocktail sausages
1tbsp olive oil
1 tbsp brown sugar
1 tbsp tomato ketchup
1 tbsp smoked paprika
Salt and pepper
Pre heat the oven to 400 (200 in the UK)
Tip everything together in a bowl to mix, season well, then spread out the sausages on a baking tray
Bake for 30 minutes until golden brown
This recipe originally appeared in a post discussing the tradition of Guy Fawkes night in the UK and hot toddies.