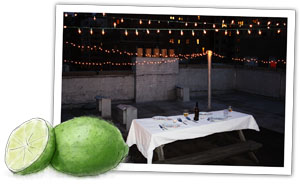 I'm not going to claim that this is very authentically "Mexican", after all, I've never been there. But this is what I make when I want to feel in a fiesta mood, to pep up a hot patio party, or to warm up a cold winter evening when the sun seems out of sight.
I live in a tiny apartment on the top floor of a walk up in New York, and if you climb out of a window you're on the roof "terrace". There are chimneys and wires and cables and fan vents, and there's a rickety table that I cover with a white bed-sheet. Jon tied strings of fairy lights looping from chimney to chimney, and beyond them, the city soars into the sky. A bowl of stew, a corona and lime, a hot night on the roof with friends – heaven.
If you're cooking for a crowd, this recipe is easily doubled up, but for up to 6 or even 8 people, I'd usually just add in more chicken and drain the beans even less vigorously to preserve more thickening goop. I'd add another handful of lentils per person, but leave everything else the same.
Ingredients (4 portions)
1 large white onion
2 cloves of garlic minced up
1tsp cumin, 1 tsp chili powder, ½ tsp red pepper flakes, 1tsp cinnamon
Zest of a lime
4 – 6 chicken thighs cut into bite sized pieces
¼ cup dried red lentils
1 can of black beans
Vegetable stock cube the juice of a lime and water to cover (a cup to a cup and a 1/2)

Salt and pepper
Chop up a large onion into a dice.  Tip it into a saucepan and add a tablespoon of light olive oil. Cook on a low heat for five minutes. You want to onion to soften and go golden but not to burn.
Now for the flavorings: Add in 2 cloves of minced up garlic, 1 tsp cumin, 1tsp cinnamon, 1tsp chili and ½ tsp pepper flakes. Grate in the zest of a lime. Toss them in the hot oil for a couple of minutes. Dried chili in particular can taste powdery if it's not toasted in the heat first. Season with 1 tsp salt and ½ tsp pepper.
Add the chicken pieces.
Pour in the dried lentils.
Drain the black beans but do not rinse and add them in too.
Give everything a good stir.
Drop in the stock cube, squeeze in the lime juice, then add enough water to cover the chicken -in the ball park of 1 and a half cups depending on the shape of your pan.
Cover and let the stew bubble very gently for 40 mins on the stove top, or put in the oven at 300. This stew works especially well in the oven if you have more time – the longer it gets the more the chili powder melts into a deep rich sauce. It can happily stay in the oven for an hour and a half.
Stir it occasionally, and check the water level.  You might have to add a bit more. Conversely, if the stew looks too wet, take the lid off and boil away some of the water.
Do you want to make it fancier?
Squeeze in the juice of half a lime to freshen it up.
Add a tbsp chopped cilantro (coriander)
Add a ½ packet of dark chocolate (broken into little pieces) about five minutes before the end of cooking time for an Aztec kick. Try chili chocolate for a dark spiciness.
Add half a box of frozen peas – not authentic and certainly not classy, but really tasty.
Let the liquid super-reduce by putting the pan on a higher heat and leaving the lid off. Now we're talking tacos!
Serving Suggestions
Put bowls of tortilla chips on the table. Also, bowls of sour cream and grated cheese.
Or top the stew with tortilla chips, grated cheese and blobs of sour cream.
Chop up some fresh tomato for people to stir in.
Cook some rice
Buy some tacos and spoon in the reduced stew. Top with chopped tomatoes and cheese.
Serve a corn salsa alongside.