Stews are rarely elegant, but that's really not the point. An Irish stew is sweet comfort food that emotes caring with every bite.
Sprinkle it with a blanket of fresh green flat-leaf parsley to freshen up the flavor and dress up the dish for company.
Traditional Irish Stew (serves 6 – 8)
2 onions
1 tbsp butter
3lb lamb – a stewing cut, I use best end of neck, and I ask my butcher for bones for the stock
6 small carrots
2 tbsp pearl barley (optional)
5 cups chicken stock (from a box is fine)
Potatoes – about 4 cups peeled and diced (which is about 6 large potatoes) or a handful of new potatoes per person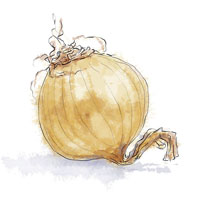 Bay leaf
Spring of thyme
2 tbsp flour
Olive oil
Salt and pepper
(Parsley and fresh bread to serve)
Chop the lamb into bite-sized chunks, then dust with the flour
Heat the butter in a splash of oil in a heavy-bottomed pan, then brown the lamb being careful not to overcrowd the pan (you can skip this step if you're impatient. It doesn't make a huge difference to the taste). Remove the lamb and set aside
Dice the onions and cook in a little more olive oil until soft
Cut the carrots in half lengthways and add them to the onions, tip the lamb back in and cover with chicken stock
Season well, drop in the pearl barley (if using) along with the thyme and bay leaf and a few bones from the butcher (if the idea doesn't gross you out too much).
Cover and cook on a low heat for 2 hours either in the oven (around 300 F) or on the stove top
Skim the fat off the stew (if you drop an ice cube into it all the fat will solidify and cling to it so it can be easily spooned away)
Half the new potatoes / peel and dice the regular potatoes and drop them into the stew. Cook for a further half an hour until the potatoes are tender
Serve in shallow soup bowls with crusty bread and a sprinkling of chopped parsley
This recipe originally appeared along with a tale of Christie – a determined Irish friend of mine that proved it was possible to beat the New York dating game.