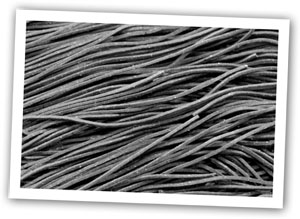 Without the title, it's squid ink pasta with seafood sauce, but whenever I look at black spaghetti I see witches' hair. Sometimes I eat this with garlic olive oil and a sprinkling of parmesan cheese – in which case I think of it as witches' hair with dandruff.
This is possibly why I get on so well with my 7 year old godson.
Black Witches' Hair Spaghetti with Sea Monster Sauce (serves 2)
2/3 packet of black squid ink spaghetti
1 cup of shrimp – peeled (I leave some with their heads on since it's Halloween and they look more monster-ish)
1 cup of calamari – the tentacles look particularly spooky (I buy this frozen and defrost it for 15 minutes on the counter top before using)
1 tbsp olive oil (or chili oil if you have it)
2 cloves of garlic
½ cup of white wine
1 handful parsley
Salt and pepper
Bring a large pan of water to the boil, salt well ( about 1 tbsp), return to the boil and add the pasta.
Cook according to the packet directions – for dried I usually stop cooking a minute less than the packet time to make sure it's al dente, for fresh, I usually knock off 30 seconds or so.
While the pasta is cooking:
Rinse the shrimps and the calamari, and de-vein the shrimps. You do this by cutting into their backs and scraping out the black vein
Mince or grate the garlic, chop up the parsley and set aside
When there's about 2 minutes to go on the pasta:
Heat the olive oil in a frying pan and add the minced garlic
Toss in the calamari and the shrimps and stir for a minute – the shrimp will turn bright pink
Pour in the wine and let it reduce for a minute, then add a small ladle-ful of pasta water
Drain the pasta and toss into the frying pan
Top with the parsley and season with salt and lots of black pepper
This recipe originally appeared with a Halloween tale of ghosts in old Broadway.