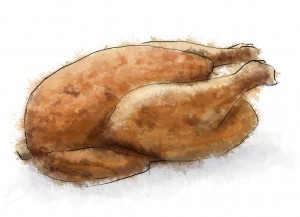 This is basic roast chicken. It takes some time to cook in the oven, but the great joy of it is that it takes hardly any time at all to prepare and then it gets on with roasting all by itself. If you buy a ready to roast bird with one of those little plastic thermometers already in it, well, that's all to the good.
If it's Sunday night, then most likely, I'll be roasting a chicken for dinner. Sometimes I go a traditional potatoes and veg route, other times, salad or cous cous. When I was growing up my Dad always made a roast on Sundays, poettering in the kitchen listening to cricket scores or string quartets. It would always stretch to accommodate people who dropped in, friends who stayed to play for longer, random family members who'd been for a walk in the park and just wondered …
It's that spirit that I like to evoke when I do a roast, and bunging a chicken in the oven is such a little effort for such a large reward.
Ingredients (serves 4 – 6 depending on the generosity of the portion and the number of sides offered)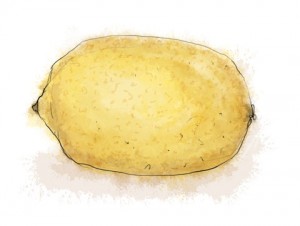 I chicken (buy it ready to roast, life's too short to de-giblet a chicken)
4 onions
2 lemons
½ cup dry white wine
Butter / olive oil
Salt and pepper
Take the chicken out of the fridge and let it come to room temp
Pre heat the oven to 400F
Peel and quarter the onions, then cut the quarters in half again and lay them in the middle of a roasting tin
Rinse the chicken (inside the cavity too) then pat the skin dry with a paper towel
Rub olive oil or butter onto the skin and sprinkle with salt (I use about 1tbsp of oil or 2 of soft butter)
Season the cavity with salt and pepper
Chop the lemons into quarters and stuff inside the chicken
Pour the wine into the tray
Put the chicken on top of the onions – this acts as a sort of natural trivet keeping it out of the liquid – and roast for an hour or so, depending on the size of the chicken. Start checking the temp after ¾ of an hour. It must be 180 in the thigh.
Let the chicken rest for 15 minutes then serve with the gravy that's in the tin. (The lemons are delicious to eat too, BTW)
Do you want to make it fancier?
Roast a Cornish hen instead – one per person. This takes about 45 mins to cook – check after 40mins.
Add a whole bulb of garlic, cloves separated but still in their skins and roast in the tray. They go soft and aromatic and sweet – not at all pungent. Squeeze them out of the skins into the gravy.
Serving Suggestions
Serve with a green salad with just a squeeze of lemon and some French bread
Or the green salad with cous cous instead of bread, with some parsley sprinkled over everything
Or with some blanched asparagus spears spritzed with lemon, and some boiled new potatoes
Or serve with rice and frozen peas
Or peas and roasted vegetables
Cook some fresh gnocchi in the gravy (you might have to add another tbsp of wine) and finish with a tbsp of cream and some shaved parmesan
Roast some potatoes and boil some carrots and peas
This recipe originally appeared with a story of two very different dates involving roast chicken, chilled wine and an Ikea peace lily.