"Herbes de Provence" is a herb mix, surprisingly enough, from Provence. It usually includes thyme, chervil, rosemary, tarragon, oregano, mint, and bay, and sometimes lavender, which I love. Try to buy a good quality mix that you can be fairly sure hasn't been sitting on a shelf for ten years. Otherwise you're flavoring your food with dust.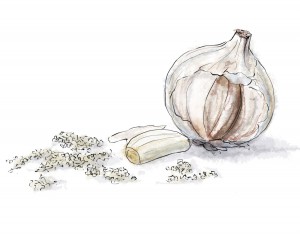 I use mine all the time – a pinch of Herbes de Provence will transform a salad dressing, or add depth to a pasta sauce, and they're delicious on a mozzarella and tomato toasted sandwich. But frankly, anytime you need a specific herb in the general Mediterranean direction, and don't have it in your cupboard, you could probably substitute in some Herbs de Provence and jump the life to come.
Pork loin is easy to carve, looks lovely on the plate and is great for fancy entertaining. This flavor profile is decidedly French rustic. Think buxom wenches and handsome swains picnicking on bread and wine in a meadow of flowers.  It is possible that I think about such things a little too much.
Ingredients (serves 4-6 depending on the generosity of the portion and the number of sides offered)

I ½ pounds of pork loin (boneless)
4 onions
Juice of ½ lemon
3 fat garlic gloves
3tsp Herbes de Provence
3tbsp soft butter
½ cup dry white wine
Salt and pepper
Pre heat the oven to 350F
Peel and quarter the onions and lay them in the middle of a roasting tin
Grate or crush the garlic into the soft butter, add the Herbes de Provence, the lemon juice, 1tsp salt and ½ tsp pepper. Rub this all over the pork loin.
Put the pork on top of the onions – this acts as a sort of natural trivet keeping it out of the juices – and roast for about an hour and ½ . Baste the meat – pour some of the juices back over the top – whenever you remember it. Half an hour in, and after an hour would be ideal. Start checking the temperature after an hour. It needs to be 155F (rare) to 170 (well done).
Yes it might look pink. Yes that's fine as long as it's around 160F.
Let the pork rest on a board tented with foil for 15 minutes
Pour the wine into the roasting tin and let it bubble away for five minutes to create the gravy – scrape in some of the brown bits from the bottom of the tray – that's where a lot of flavor is.
Serving Suggestions
Drain a tin of puy lentils and heat through with a few tsp of white wine, salt and pepper. Serve the pork on top with some boiled green beans on the side. Sprinkle flat leaf parsley over everything.
Serve with a green salad with just a squeeze of lemon and some French bread
Toast the bread lightly and rub with garlic, a juicy tomato and finish with olive oil and salt
Bake a potato gratin alongside