Tarragon is one of those herbs that you either love or you hate. I grew some in a window box one year and it took over, pushing out the parsley and the basil, thrusting upwards into a spinally green hedge.
We had to learn to love it.
Ingredients
1 chicken breast per person – or you could use those little chicken fillets 2 – 4 per person depending on greed levels and whether anybody is training for a triathlon or not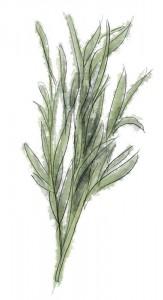 ½ cup dry white wine
½ cup of cream
Handful of tarragon
Knob of butter and a splash of olive oil
Salt and pepper
If the chicken is thicker than a knuckle, put it in a zip lock bag and smash it with a pan / rolling pin / hammer until about 1 cm thick.
If you have time, squirt ½ a lemon in there and some olive oil and let the chicken marinate overnight in the fridge or for 20 minutes.
Season with salt and pepper
Heat up the frying pan and add a splash of olive oil and a knob of butter (a scant tbsp and a generous tsp respectively) The butter gives great flavor, the oil stops the butter burning
Cook for 4 -5 minutes per side until the exterior is golden and there's no hint of pinkness within (little chicken fillets will take less time)
Move the chicken to a plate and cover with foil to keep warm
Pour the wine into the pan and scrape off the bits into the bubbling liquid. Add the cream, allow it to bubble into a sauce, then take the pan off the heat and add the chopped tarragon.
Pour the sauce over the chicken and serve
Do you want to make it fancier?
Add a ½ cup of pernod instead of wine for a herbal hit
Add a handful of white seedless grapes cut lengthwise in half to the sauce when you add the cream and allow to heat through for a take on Veronique sauce
Dice a shallot and cook for a minute after taking out the meat and before pouring in the deglazing liquid
Serving Suggestions
Serve with a hunk of French bread
Or over some rice
Or over some tagliatelle
Serve blanched asparagus or beans or peas on the side