This is the result of my attempt to re-create a dinner that I never got to eat.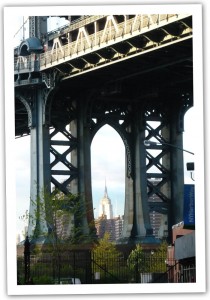 It takes a lot to distract me from my food, especially if I've ordered it in a super-fancy restaurant. We were in New York on serious business  – Jon was interviewing for a job and I was shopping.
Now I remember ordering pork and lemon, and I think there was something creamy on the plate when it arrived, and I know that I had a side of spinach with nutmeg though I don't remember actually eating it. It was Jon's fault. He had decided that after 7 years of dating it was probably not a terrible idea for us to get married and being thus decided, couldn't wait until after dinner to run it by me. Of course I was so busy smiling that I somehow didn't manage to eat, and I didn't know about packaging up food to go back then, so that dinner was lost to history.
Ingredients
1 boneless pork chop per person
1 lemon – juiced
½ cup of cream
Knob of butter and a splash of olive oil
Salt and pepper
If the pork chops are thicker than a knuckle – about half an inch, put them in a zip lock bag and smash them with a pan / rolling pin / hammer until about 1 cm thick.
Season with salt and pepper
Heat up the frying pan and add a splash of olive oil and a knob of butter (a scant tbsp and a generous tsp respectively) The butter gives great flavor, the oil stops the butter burning
Cook for five minutes per side
Move the meat to a plate and cover with foil to keep warm
Pour the lemon juice into the pan and scrape off the bits into the bubbling liquid. Add the cream, allow it to bubble into a sauce, then take the pan off the heat
Pour the sauce over the pork and serve
Do you want to make it fancier?
Add a ½ cup of pernod in with the lemon juice for a herbal hit
Finish the dish with a handful of chopped parsley
Dice a shallot and cook for a minute after taking out the meat and before pouring in the deglazing liquid
Serving Suggestions
Serve with a hunk of warmed ciabatta
Or a bowl of boiled new potatoes
Or over some tagliatelle
And blanched asparagus or beans or peas spritzed with lemon juice
Or some wilted baby spinach (in the plastic bag it came in in the microwave for a minute)