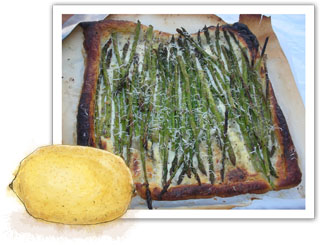 This is lovely in the summer when you can get that really thin spindly asparagus on special offer on fruit stands all over the city. It tastes good with the woodier thicker asparagus too, though you will want to blanch it in boiling water for a few minutes to start it cooking, then dry with paper towels before attempting to roast it on top of the tart.
This also makes pretty individual tarts – cut around a saucer as a template.
Ingredients (serves 6 as a starter or 4 – 6 as a light dinner if you add a side salad and bread)
1 sheet of defrosted puff pastry
A generous fist full of skinny green asparagus
¾ cup of ricotta
1 lemon zested and juiced
Salt and pepper
Olive oil
Lay the pastry sheet onto some parchment and roll out to get rid of the creases. Score a border around the edge and prick the pastry in the middle with a fork.
Mix the ricotta with ½ tsp of salt and ½ tsp of pepper, the juice of a lemon and half the lemon zest.
Spread this on the pastry (inside the border)
Wash and trim the asparagus (snap off the thicker whiter bits at the bottom) and line it up on the tart – not all facing the same way or some people will only get to eat stems.
Sprinkle with the rest of the lemon zest, and season with ¼ tsp of salt and pepper. Drizzle a little bit (a couple of tsp) olive oil over the asparagus.
Put the tart onto a tray and into a pre-heated oven (350) and let it cook for 20 – 25 mins. If your oven is a bit old and unreliable, like mine, turn the tart around half way through cooking in case one bit of oven is hotter than another and the tart cooks unevenly (i.e. one part raw, one part ash, as in my oven).
Serving Suggestions
Sprinkle grated parmesan on top and a spritz of juice from half a lemon
Serve a green salad with a simple lemon vinaigrette along side (1tsp mustard, 2tsp lemon juice, 6 tsp olive oil, pinch of salt and pepper)