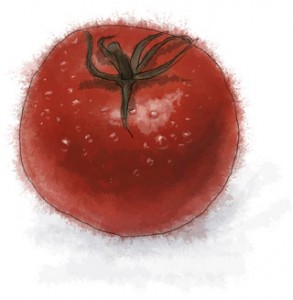 This tart is spread with pesto before being topped with tomatoes and milky mozzarella. The kind of pesto that comes in a jar can sometimes get very oily around the top, so give it a good mix before you spread it. There is a certain aesthetic that suggests disks of cheese, disks of tomato and individual disks of pastry, and I see the merit. But I don't quite have the patience to line up all the slices in concentric circles, so I buy odd shaped, odd colored heirloom tomatoes, and chop them haphazardly into wedges before scattering them on the tart, then I rip up the cheese on top. It's a different aesthetic. To me it suggests abundance rather than neatness. At least, I hope so.
Ingredients (serves 6 as a starter or 4 – 6 as a light dinner if you add a side salad and bread)
1 sheet of defrosted puff pastry
2- 3 cups of tomatoes cut into wedges (with maybe some cherry tomatoes for good measure)
1 ball of fresh mozzarella cheese
3-4 tbsp pesto
Salt and pepper
Fresh basil
Lay the pastry sheet onto some parchment and roll out to get rid of the creases. Score a border around the edge and prick the pastry in the middle with a fork.
Spread the pesto over the pastry (inside the border)
Cut the tomatoes into wedges and halve the cherry tomatoes if using. Tumble them onto the tart. Season them with ½ tsp of pepper and ½ of salt.
Rip the mozzarella into lumps and scatter over the tomatoes. Grind over a little more pepper.
Put the tart onto a tray and into a pre-heated oven and let it cook for 20 – 25 mins. If your oven is a bit old and unreliable, like mine, turn the tart around half way through cooking in case one bit of oven is hotter than another and the tart cooks unevenly (i.e. one part raw, one part ash, as in my oven).
Once cooked, top with some basil leaves.
Serving Suggestions