These ingredients will make about 8 ice-cream scoop cakes, I'd reckon on 2 per person with a poached egg as a main course, and I'd make enough for seconds, but with a drink, I'd make them smaller, tbsp sized and get about 16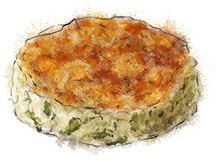 800g potatoes
300g cabbage
3 scallions (spring onions) diced finely
¼ cup parsley (chopped roughly)
½ cup bacon chopped into lardons
1 cup of flour
2 tbsp butter (at least)
Salt and pepper
Vegetable oil for frying
Peel and chop the potatoes, then rinse in cold water to get rid of some of the starch. Put in a pan, cover with cold water, salt well, then boil for about 20 minutes (depending on the size of the chunks) until tender
While the potatoes are cooking, shred the cabbage finely and steam over the potatoes for 8 mins (or boil in a separate pan then drain well
Fry the bacon. Pat dry on a paper towel
Mix the chopped scallion, the bacon and the cabbage into the mashed potato – you have colcannon!
Now to turn it into cakes: (You should have something in the region of 3 cups of colcannon.)
Add the cup of flour to the colcannon and mix well
Chill the mixture for 15 mins or so to make it easier to shape (if it's very wet, add more flour until the mixture feels stiff and shapeable)
Use an ice cream scoop (or a spoon) to ball out the mixture, then flatten each ball to make a disk
Fry in butter with a splash of oil to stop it burning for about 3 – 4 minutes per side until golden
Keep warm in the oven while you fry the rest of the mixture
Serving Suggestions:
Serve with a poached egg for utter perfection
Colcannon is delicious served with stew, or with some sausages and a dollup of mustard
If you can make that you can make this:
Leave out the cabbage and add cooked flaked salmon to make fish cakes
Add ½ tsp of cumin, coriander and some fresh chopped mint to take these potato cakes in a more Indian direction
This recipe originally appeared for St Patrick's day along with memories of making potato cakes with my grandmother.