I make this Thanksgiving themed rice dish as often as I think Jon will put up with it, throughout Autumn and Winter. I think it might have been the first dish that I ever cooked for his parents, when they came to visit us in our first flat together – it's that reliably tasty, hassle free and beautifully festive.
Thanksgiving Rice (serves 6)
6 cups of wild rice white rice mixed together
1 butternut squash
1/2 pumpkin
8 large sweet potatoes
4 large red peppers
4 red onions
2 handfuls of dried cranberries soaked for five minutes in a splash of orange juice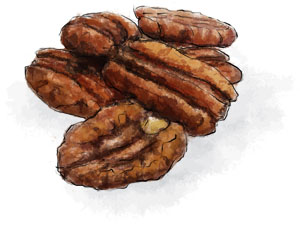 1 handful of toasted pecans
1 cup cranberry sauce
Olive oil
2 tbsp balsamic vinegar
Salt and pepper
Peel and slice the squash, the pumpkin, the sweet potato and the peppers, peel the onion and cut into wedges.
Toss in olive oil, salt and pepper and roast at 400 for about 40 minutes – depending on the thickness of the vegetables – turn them halfway through and keep an eye on them – the peppers may be done before the rest of the vegetables, in which case, fish them out and cover them with foil to keep warm
Cook the rice according to the packet instructions (you can buy a microwavable wild rice mix which takes all the work out of the project)
Toss the hot rice with 1/4 cup of olive oil, 2 tbsp balsamic vinegar and the cranberry sauce
Stir the vegetables through the rice
Top with the cranberries and pecans
Serve hot, or at room temperature
This originally appeared in a post about vegetarian recipes for Thanksgiving.