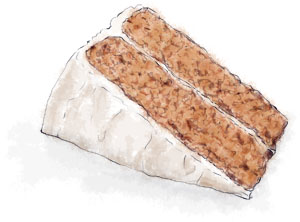 My justification, if any were needed, is that I'm using up the vegetable box, which, by reason of us getting the family-sized one delivered by mistake, seems to be taking up half of the kitchen. This cake used up a slightly disappointing 4 of our dozen carrots, but it's a step in the right direction.
This recipe originally appeared along with a picture of  a dog dressed as a skunk.
Ingredients for the Carrot Cake
1 2/3 cups of flour
1 ½ tsp baking soda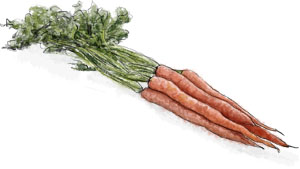 1 ½ tsp baking powder
2 tsp cinnamon
Pinch of salt
3 eggs
¾ cup of sugar
2/3 cup vegetable oil
200g carrots (4 ish)
(Optional – 50g each of sultanas and walnuts)
Pre heat the oven to 325
Grate the carrots
Beat the eggs and mix in the sugar, then whisk until the sugar has dissolved
Tip in the oil and mix until incorporated
Pour in half the dry ingredients and half the carrot and mix to combine, then add the other half, mixing until you have a smooth dark batter flecked with orange. (Add the walnuts and sultanas if using and mix in well)
Grease 2 8 inch cake tins and divide the mixture into them (or use a 1 lb loaf tin)
Bake for 35 minutes
Ingredients for the icing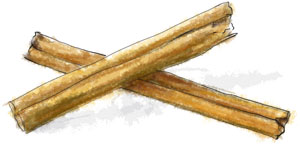 8oz cream cheese – one packet – at room temperature
4 oz mascarpone (1/2 cup) – at room temperature
3 tbsp sugar (add more to taste)
2 tsp lemon juice (to taste)
Whisk together until smooth
Spread on one layer of cake then sandwich the other on top
Spread on the top layer
Decorate with walnuts halves if the fancy takes you
If you can make that you can make this:
Soak a cup of prunes in armagnac, then chop and add to the batter instead of the sultanas and walnuts to make a richly fruited version
Decorate the icing with cinnamon sugar (1 tbsp of sugar and 1tbsp of cinnamon mixed together)
Or top with a handful of gooseberries that you've turned into a compote by cooking them in a pan with a handful of sugar for five minutes, then allowed to cool
Replace the carrot with zucchini (courgette) and the cinnamon with coco powder to make chocolate zucchini cake. Add 100g of chocolate chips instead of the optional sultanas and walnuts. Dust them with a few tsp of flour before adding, which stops them all sinking to the bottom.