Now I'm not usually a believer in cupcakes as the food of love. There's too kidsy for starters, and a little too Welcome to my 1950's time portal! But if any cupcake can do it, these babies can. We're talking deep dark chocolate, an oozing truffle centre, a cool cloud of whipped cream and a dusting of red coco. It's a cup cake, but strictly for after dark
These take 5 minutes to make and 15 minutes to bake give or take. You can make them in traditional cup cake (fairy cake) cases, in which case you'll get a dozen. If you're using muffin cases you'll get 8. The deeper the cake is, the longer it needs to cook. For fairy cake cup cakes you'll need to check after 12 minutes, and muffin sized might take as long as 20. You want to get them out of the oven as soon as the top of the cake is dry. You can also bake these as more of a molten chocolate dessert, straight into a well buttered muffin tin.
These cakes can be baked, then frozen and can then be defrosted and warmed through in the oven (or microwave) before eating. The center won't be as molten, but they'll still be good.
Molten Truffle Cupcakes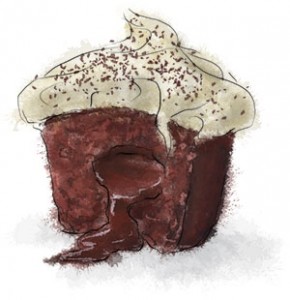 5 oz chocolate (just less than 2 bars)
¼ cup plus 1 tbsp butter
3 large eggs
3 large egg yolks
¼ cup of sugar
3 tbsp flour
8 – 12 chocolate truffles
For the topping:
1 ½ cups of cream
1 tbsp confectioners (icing) sugar
1 tbsp of Bailey's – optional
4 tsp coco powder or grated chocolate
Pre heat the oven to 320
Melt the chocolate and the butter in a bowl over a pan of hot water or in the microwave
Meanwhile whisk the eggs, the yolks and the sugar for about until they are fluffy and pale (by hand; 5 mins, by electric whisk; half that time)
Fold the chocolate gently into the egg mixture
Add the flour and stir to combine
Divide half the mixture into cake cases – or straight into a well-greased muffin tin
Pop a truffle on top
Layer over the other half of the chocolate mixture
Bake for about 15 minutes – keep an eye on them – and cool for 10 minutes
Top with whipped cream and grated chocolate or rich red-brown coco powder
Add Bailey's to the whipped cream for another adult touch
This recipe originally appeared along with a tale of 4 men and 4 cupcakes.