Victoria sponge, that classic afternoon tea cake, might not immediately seem the stuff of passion. It's ever so slightly buttoned up, with an edge of primness and a whisper of stilted conversation. But look closer and you'll soon see the possibilities of the smooth billowing cream, sweet glistening strawberries, pillowy soft sponge and plenty of finger-licking. You need to be buttoned up if you're going to enjoy being un-buttoned, I suppose.
This recipe is adapted from one that my grandma collected from an old Good Housekeeping from the 1950s. It makes a skinnier cake than you might expect – I think ideas about portion size might have been smaller, so I tend to make a 6:6:6:3 version for 3 17cm cake tins and stack the cake higher, or 2 22cm tins.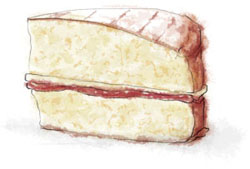 4 oz butter (1 stick) – room temp
4 oz sugar (1/2 cup)
4 oz flour (1/2 cup)
2 eggs – room temp
1 tsp baking powder
2 tsp milk (approx)
2 cups of strawberries (or 1 cup of strawberry jam)
¾ cup of cream
 
Pre-heat the oven to 375
Cream the butter and the sugar until light and fluffy (this is where a mixer or an electric whisk comes into its own)
Beat in the eggs one at a time
Add the sieved flour and baking powder a spoonful at a time until incorporated
Add the milk until the batter is a soft dropping consistency (you may need more milk – up to about 1tbsp)
Butter and flour 2 18cm cake tins (or use the fancy silicone ones – I got some for Christmas and have never looked back)
Scrape the mixture in
Bake for 25 – 30 mins until a skewer poked in the middle comes out clean
Cool on racks
Whip the cream and slice the strawberries. Spread on one of the cakes, sandwich the other on top. Decorate with more cream and strawberries if you like, or dust with a little confectioner's sugar (icing sugar) or even regular sugar
This recipe first appeared with a story of love, lust, psychics and mermaids.