I love star shapes, and when it comes to Christmas cookies they're by far the easiest; no messing around with decorative icing, a star looks like a star. (For the record, my Nativity cookies were the worst, especially the donkey and the wise men, who looked like hunchback aliens. But I also have a poor track record with angels – out-sized faces – and Father Christmases – strange facial hair.)
These could be hung on a tree – in which case, poke a hole before baking them – but they're delicious eaten around a tree, next to a tree or even when fondly imagining a tree – whatever suits. When I make them to be eaten rather than hung, I go with an assortment of star sizes – the mini ones are really cute for a drinks party.
Star Cookies (makes 12 ish, depending on the size of the cutter)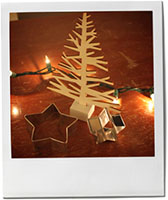 225 g plain all purpose flour
110 g super fine (caster) sugar
110g cold butter, chopped into cubes
1 egg
1 vanilla pod
2 cups of confectioner's (icing) sugar (at least)
Few tsp milk
Decorative flourishes – silver balls, sprinkles, etc
Pre heat the oven to 350 (180 if you're British)
Tip the flour, sugar, and butter into a processor
Cut the vanilla pod in half and gently scrape out the seeds. Add to the processor.
Blitz to mix into breadcrumbs
Beat the egg, then add and mix again into a dough
(or rub the butter, sugar, vanilla and flour between your fingers into breadcrumbs, add the egg and mix with a wooden spoon into a dough)
Lightly flour the work surface and roll out the dough to about ½ cm thickness (my grandma uses the roll of plastic wrap so that she can rip off the layer and avoid washing up)
Cut out star shapes, using a spatula to transfer them to a baking tray (punch holes with a skewer if desired)
Bake for 10 – 12 mins – I swap my trays around between the middle and top shelf, and I turn them so that the back becomes the front – though my oven has a mind of its own – you may not need to be so paranoid
Cool on a rack
Once cool, sieve the confectioner's sugar (or quickly blitz in the processor) to get rid of the lumps. Add a patient tsp of water at a time until you have a thick paste. Ice the cookies as the muse leads you. I tend to outline with icing then sprinkle with silver. If you want to ice the whole cookie you may need more icing
This recipe appeared in a post with a story about tree trimming parties and my friend Jess' lethal apple punch.