Palmiers are often the shortest distance between wanting to eat a home-baked biscuit and actually getting to eat one. If you can make a pastry tart this is exactly the same thing, only you roll up the pastry and slice it before baking.
Palmiers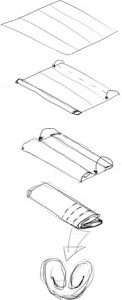 1 sheet of puff pastry – let it defrost on the counter for 5 minutes
1 cup of sugar (vanilla sugar if you have it)
2 tsp cinnamon
½ tsp nutmeg
Pinch of salt
Preheat the oven to 450
Mix the sugar, the spices and the salt, and tip half on to the counter
Put the puff pastry on top of the sugar mixture and roll it out  a bit to get rid of the lines  – aim towards making it square but don't stress out about it
Pour the other half of the sugar mixture on top and press it in with the rolling pin
Now for the folding. In your minds eye divide the dough into quarters. Now fold each end to the quarter line, and fold again to the half way line, then fold one half over the other half like a book. This sounds more complicated than it is. (see diagram)
Cut into 2 cm slices and bake on a baking tray lined with parchment (or foil in a push) for 8 minutes
You can add sultanas to the sugar mixture on the "up" side of the pastry if you like – sultanas soaked in rum are really good – or a cheeky spreading of nutella.
This recipe originally appeared as the perfect afternoon tea snack.