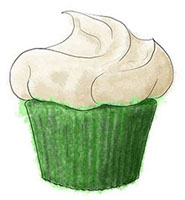 As St Patrick's Day approaches it brings with it the opportunity to view the world through emerald tinted glasses.
Jeans can be green. The icing on donuts can be green. Last year Jon and I drank green beer so heavily dyed that our tongues turned green. The popsicle affect, only with alcohol.
And so it is with great anticipation that I bring out the food coloring to make green red velvet cakes.
A note on food coloring: pastes are a lot more concentrated and therefore, you'll need less of them to make a proper color change – to get even a murky khaki you'd need almost a whole bottle of liquid. It's really worth spending the extra.
This recipe – minus the green – comes from Martha Stewart. It works particularly well here because it has less coco powder than some recipes – coco gives the cake its flavor, but makes the color darker.
Green Velvet Cake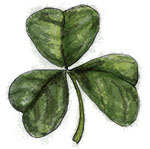 1 ¼ cup cake flour
1 tbsp good quality coco powder
½ tsp salt
¾ cup sugar
¾ cup vegetable oil
1 large egg
1 tsp green food coloring paste
½ tsp good quality vanilla extract
½ cup buttermilk
1 tsp baking soda
1 tsp white wine vinegar
 
Pre heat the oven to 350
Line muffin tins with liners (mixture should make 12 cakes)
Sift the flour, salt and coco together into a mixing bowl
In a different bowl whisk the sugar into the oil (electric beaters really help here) until smooth, then whisk in the egg, the food coloring and the vanilla
With the beaters on low mix in the flour mixture in three batches, alternating with the buttermilk
Stir together the baking soda and the vinegar – it fizzes up – then add to the mixture, beating for a further 10 seconds.
Scrape into the muffin cases then bake for 20 minutes. Cool on racks until cold
For the frosting:
Make sure all the ingredients are at room temperature before you start
1 stick of unsalted butter (4oz)
4 oz cream cheese
2 cups confectioner's (icing) sugar
½ tsp good vanilla extract
Drop of green food coloring paste if desired
Beat the butter and cream cheese in a mixer until soft and light – about 3 mins (you can do it by hand and you'll get a great work out, but it takes longer – 5 mins)
Add the sugar (ideally sifted if you have the patience) 1 cup at a time and beat until smooth
Stir in the food coloring – a tiny dot at a time – until you get the green you desire
Frost the green velvet cakes with the green cream cheese frosting