St Patrick's Day plans are afoot in New York – the parade is shutting down half the city, green beer is promised in the bar on the corner, Kim is hosting a brunch with actual Irish Bacon, and a dancing leprechaun has been sighted in Times Square.
Whenever I see a human Hot Dog or a Dora The Explorer I am overwhelmed with pathos.
I imagine these luckless actors moving to New York, probably following an expensive and hard earned degree in Musical Theatre, hearts filled with hope that in just a few auditions, just a few call backs' time they will be Hamlet, or Jesus Christ Superstar, or defying gravity in Wicked.
The hope still burns within. They've not quit yet. No waiting tables or thankless temp receptionist work for them. They're in character, playing a role, close to the dream if not exactly living the dream, acting on 42nd street, dressed as an Elmo or a Kofte Pita Sandwich.
I have a friend who once worked at Disney as a Character Actor. Mostly this involved standing around waving to tourists while dressed in a giant furry outfit in searing Floridian temperatures. "Some days were so hot, we could only be in there 15 mins at a time or we'd literally pass out and traumatize the kids," she told me. "Thinking about it now, it was probably the most dangerous job I ever had."
Back in New York, the leprechaun approached Sara and I, wishing us "the luck of the Irish and top of the morning to you" in a passable accent. Next he danced a little gig. Given his oversized foam clogs, I was impressed. Sara was not.
"St Patrick's is better in Chicago," she said. "They actually dye the river green. Now that's what I call commitment."
Guinness Beef Stew (serves 4 – 6)
1 ½ – 2 lb stewing steak cut into 1 inch cubes
½ cup lardons or about 8 strips of bacon, sliced
1 large onion (or a couple of small ones)
1 ½ cups Guinness
2 cups beef broth (from a can, or use water if you prefer)
2 tsp grain mustard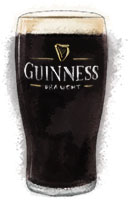 1 tbsp brown sugar
1 tbsp tomato paste
1 tsp dried thyme
3 cloves garlic
Salt and pepper
Olive oil
1/3 cup flour
Optional:
4 large carrots
½ cup frozen pearl onions
2 baking potatoes
 
Preheat the oven to 300f and put the casserole pan on the stove
Heat up some olive oil, dice the onion and fry gently until golden – about 5 mins
Add the lardons and increase the heat. Cook for a couple of minutes
Grate in the garlic, add the thyme, sugar, mustard, tomato paste and season well
Dust the meat in the flour and add to the pan. Toss around to brown a bit
Pour over the broth (or water) and Guinness. Put the lid on, and cook in the oven for 2 hours
Peel and dice the carrot and potato if using (into fairly large chunks). Add to the stew along with the pearl onions and cook for a further hour. If you're not adding the veg, give the stew a stir, add a splash more water if necessary and cook for another hour