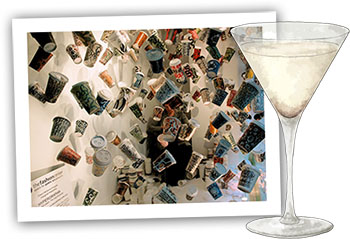 It's been a week characterized by coffee.
Firstly because husband Jon, in an attempt to master the fancy espresso machine that was his Christmas present decided to sample many varieties of beans from the Porto Rico Importing Company on Bleeker Street. The plan was to try a different one every day in an attempt to discover which is our favorite.
Incidentally, the coffee machine really is the gift that keeps on giving. I gave it to Jon. He loves it. And makes me cappuchino every morning with it. Brilliant.
So Sunday was Guatemalan. Quite lovely, smooth and mild. Monday was Costa Rican dark roast. Tasted great, gave us both heart-burn. Tuesday's mild Ethiopian scored highly. Mornings are looking up this week.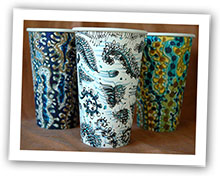 Secondly, my friend Gwyneth's art installation opened this week. She's been collecting her morning coffee cups and drawing on them, and now she's sitting in the Fashion Center Window Space at 215 West 38th Street, surrounded by her year in hot beverages, drawing for the curious of NYC.
It's all rather Prufrock, "I have measured out my life in coffee spoons," only better, because she got to drink the coffee too.
And lastly, there was the Kahlua, which was probably a mistake on a school night as it were, though not one which I feel the need to regret.
White Russian (per drink)
1 shot Kahlua
1 shot vodka
1 shot milk or cream
Shaken over ice
Coffee Cake
175g flour
1 tsp baking powder
175g sugar
175g butter (must be soft)
3 eggs (at room temp)
3 tsp espresso
For the icing
6 oz butter (must be soft)
12 oz icing sugar
3-4 tsp espresso
Grease 2 8 inch tins and line the bottom with a disk of parchment. Preheat the oven to 325 f (170c)
Sift the flour and baking powder into a bowl
Add the eggs, sugar, butter and espresso. Whisk with an electric whisk until light – you can also use a wooden spoon, it just takes longer
The mixture should drop of the whisk or spoon with one tap on the side of the bowl. If it's too stiff, add a tsp of water
Divide between the tins and bake for 30 – 35 mins until a toothpick inserted into the centre of the cake comes out clean
Remove from the oven, allow to cool in the tins for a few minutes, then turn out onto a rack until fully cooled
Sift the icing sugar (or you'll get unappetizing lumps in the icing), add the coffee and stir into the butter until smooth. If the icing is too dry add some more coffee, if it's too wet, add some more icing sugar
Spread a layer on top of one of the cakes, top with the other and ice the top. (make sure the bottom of the cake becomes the top, as it will have a nice flat surface for icing. The top of the cake with be more domed and uneven).
If you like your coffee cake with walnuts in, add a handful of chopped walnuts after the batter is made, but before it's divided into the tins. Top with walnuts for a traditional look.