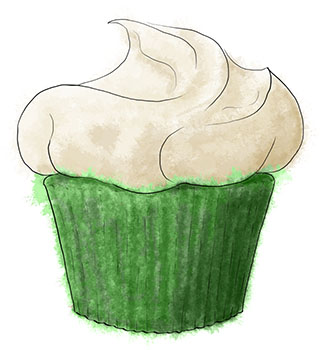 Probably as a response to valentine heart-shaped cookie cutter withdrawal, the green food coloring ended up in my basket, and by the time I'd unpacked the shopping my mind was racing with ways to use it in celebration of St Patrick's Day.
I'm not Irish. Very possibly uniquely here in NY, where people whose Great Grandparents were born in Hoboken and whose fathers are from Ecuador, tell me in great detail how Irish they are and hum snatches of Danny Boy at me. And then there are my Irish friends, with their devastating accents and trips out to an exclusive bodega in Queens to get sausages and proper tea bags.
But I don't let that detail hold me back from a party, especially from one with a theme.
I had been talking about the possibility of messing with the Southern classic, Red Velvet Cake, with my friend Rachel who is from Kentucky (but I'm not laying bets against her being a little bit Irish too). "I think it's all in the mind," she told me, "I know, logically this is a chocolate cake, but it just tastes better because it's red."
I tend to agree – after all, many things are simply better because they are red; lipsticks, Ferraris, Italian coffee machines, wedge sandals, lollipops, twizzlers, gumballs, roses …
But how liberating, how joyfully off-kilter, to break open the green and see the world enhanced with emerald?
A note on food coloring: Pastes are a lot more concentrated and therefore, you'll need less of them to make a proper color change – to get even a murky khaki you'd need almost a whole bottle of liquid. It's really worth spending the extra.
As for Red Velvet Cakes, I'm torn between Martha and Paula, but more regularly opt for Martha, so that's the basic recipe that I'm using here. I've halved the quantities to make 12 rather than 24 muffin-sized cakes.
Green Velvet Cake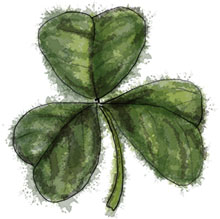 1 ¼ cup cake flour
1 tbsp good quality coco powder
½ tsp salt
¾ cup sugar
¾ cup vegetable oil
1 large egg
1 tsp green food coloring paste
½ tsp good quality vanilla extract
½ cup buttermilk
1 tsp baking soda
1 tsp white wine vinegar
Pre heat the oven to 350
Line muffin tins with liners (mixture should make 12 cakes)
Sift the flour, salt and coco together into a mixing bowl
In a different bowl whisk the sugar into the oil (electric beaters really help here) until smooth, then whisk in the egg, the food coloring and the vanilla
With the beaters on low mix in the flour mixture in three batches, alternating with the buttermilk
Stir together the baking soda and the vinegar – it fizzes up – then add to the mixture, beating for a further 10 seconds.
Scrape into the muffin cases then bake for 20 minutes. Cool on racks until cold
For the frosting:
Make sure all the ingredients are at room temperature before you start
1 stick of unsalted butter (4oz)
4 oz cream cheese
2 cups confectioner's (icing) sugar
½ tsp good vanilla extract
Drop of green food coloring paste if desired
Beat the butter and cream cheese in a mixer until soft and light – about 3 mins (you can do it by hand and you'll get a great work out, but it takes longer – 5 mins)
Add the sugar (ideally sifted if you have the patience) 1 cup at a time and beat until smooth
Stir in the food coloring – a tiny dot at a time – until you get the green you desire
Frost the green velvet cakes with the green cream cheese frosting