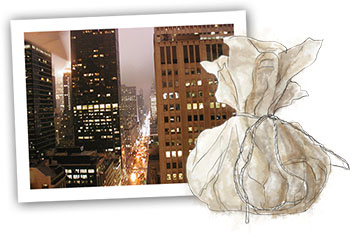 There are cold rainy March days when you might find yourself without any particular plan, wandering around Anthropologie looking at the spring dresses, wondering where the sunshine has gone, then spending a lot more money than you intended on a rose / mint lip balm.
I know it's not just me.
Anthropologie in Chelsea Market was swarming with women doing exactly the same thing; picking up crystal door knobs and putting them down again. Stroking Ecuadorian artisanal quilts with longing, holding up a frilly apron and imagining pairing it with some marabou slippers and handing round a plate of cup cakes. Ok. Maybe that was just me.
But I was in Anthropologie, and stumbled upon a stunning vegetarian cook book, Plenty by Yotam Ottolenghi. Every recipe was intriguing. Every recipe shouted a sunshine abundance of fresh vegetables and window boxes bursting with herbs. I stood reading it, rapt, for long enough for it to become ever so slightly embarrassing. So in the optimistic spirit that continues from when I planted the herb pots at the weekend, I bought it and took it home and devoured it.
And that's when I saw it; a recipe for mushrooms cooked en papillote. And though it looked extremely delicious, what immediately struck me was the en papillote part – the "in paper".
Now I've been cooking my fish in little parcels for years, either in parchment, which can be tricky to fold and make stay folded, (and frankly has come very close to catching on fire in my gas oven) or in foil, which is much easier to put together, but slightly less beautiful in that chic French rustic way.
But here was a third way; a parchment purse – gathered at the top and tied with string. Entirely beautiful and no tricky origami required. That only left one problem; the whole catching fire in the gas oven thing. Which was solved by referring to Julia Child – spraying the parchment packages with water pre-baking stops potential flare-ups. I re-purposed the new plant sprayer, doused the parchment liberally, and it worked like a charm.
So it was that friend Grace found me in proselytizing mood when she approached me for a recipe with which to seduce Alex and mark the 6 month anniversary of their first date. Something light, something aromatic, something easy yet impressive – and this is what I suggested.
And if you're a fish on Fridays adherent this ought to get your Lent off to a good start.
Salmon and zucchini in lemon herb butter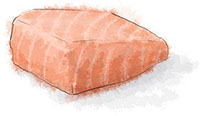 2 generous salmon fillets (skinless)
1 lemon
1 zucchini
1 tsp capers
¼ cup fresh flat leaf parsley and fresh basil
¼ cup unsalted butter
1 clove of garlic (peeled)
Salt and pepper
Preheat the oven to 350
Put the herbs, butter, garlic and a pinch of salt and pepper in a processor and blend until smooth (or, for a more rustic butter, chop the herbs and garlic finely then beat into the butter along with salt and pepper)
Lay a circle of parchment on the surface and spread a dollup of the herb butter in the centre
Season the salmon well on both sides, then place on top of the butter
Grate over about 1tsp lemon zest
Dot a tsp of butter onto the top of the salmon
Chop the zucchini into ½ cm disks and scatter around the fish along with ½ tsp of capers
Squeeze over about 1 tbsp of lemon juice (about half a small lemon)
Gather up the parchment in the centre and tie with string
Now make the other parcel
Spray with water (if you have a plant sprayer that works great here) or splash with water, then bake in the oven for 15 mins for rare salmon, 17 for medium and 20 – 25 for well done
Give each guest a parcel to open at the table
Freshen up the flavors with a squirt of lemon juice and a sprinkle of fresh herbs after you open the parcels
Serving suggestions:
Serve with crusty bread and a green salad
Or on top of fresh tagliatelle
Or with some boiled new potatoes
Or with a generous portion of roasted asparagus
If you can make that you can make this:
Add asparagus spears to the zucchini before cooking
Or finely sliced fennel
Switch out the lemon juice for pernod for a light anise flavor
Use a different combination of fresh herbs in the butter (use soft herbs – rosemary, bay leaves etc tend to be too "woody") Use just basil, or parsley and mint, or mint and cilantro
Or strike an exotic note with cilantro, a little fresh red chili, garlic and a little fresh ginger blended into the butter
More en papilotte recipes