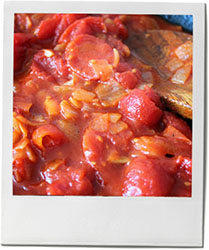 These are the kind of unpredictable spring days when meals are often called upon to satisfy diverse conditions. We want to eat something comforting and warming enough for unpredictable showery blustery weather, but fresh and sprightly enough for those evenings where it's impossible to remember that only last week you wore a hat and scarf to work.
A lovely tomato sauce is one such a treat.
And it's a recipe worth spending some time with because it's an incredibly versatile cooking tool. The idea behind the recipe section of this blog was to show that once a basic technique has been mastered, and you're confident about it, you can switch up just one or two ingredients and turn it into countless different dinners. So it is with a tomato sauce. It's marinara, it's ala vodka, it's puttanesca, it's bisque, it's lasagna, it's parmigiana, it's basic curry, it's soup, it's stew – more succinctly; it's a seriously useful recipe to have in your repertoire.
Softened onions +garlic + tomatoes + simmering time = tomato sauce
See, simple, right?
Here it's showcased in a simple spaghetti dish
Spaghetti with Tomato Sauce (serves 4)
2 medium onions
½ tbsp butter
½ tsp – 1 tsp sugar / tbsp of milk – these are both ways to bring out the sweetness and reduce the acidic rasp of the tomatoes. Canned tomatoes seem to usually need some help.
1 fat clove of garlic (peeled)
1 large can or 2 normal sized cans of tomatoes – I use whole plum tomatoes and chop them in the can by wiggling my knife around. My brother-in-law once worked at a tinning factory and tells me that the tomatoes that weren't good enough to be canned whole went into the chopped and crushed tins, so I've fastidiously avoided them since.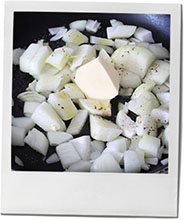 Salt and pepper
Olive oil
Packet of spaghetti
Bring a large pan of water to the boil
Now, make the sauce
Dice the onions
Fry them in the butter with a splash of olive oil to prevent the butter burning. Season well
Once the onions are soft and sweet (about 5 mins) grate in the clove of garlic and turn in the heat (you don't want the garlic to burn because it will taste bitter)
Pour in the tomatoes and let the tomato sauce simmer gently for a few minutes
Taste the sauce. If it's too sharp add some of the sugar. If it's still too sharp, add the tbsp of milk. Let it simmer and reduce (if the sauce looks like it's getting too thick add some water or stock to thin it down) for 10 – 15 minutes depending on how intense a sauce you're looking for
Now cook the pasta – salt the boiling water (there's an Italian saying that the pasta water should be as salty as the Mediterranean Sea, which to my mind is about 2 tsp …). Tip in the spaghetti and stir to separate the strands. Boil for 1 minute less that the instructions say so that it is still al dente
Once the pasta is cooked drain it, but not too well (a bit of water helps the consistency of the sauce), and add the pasta to the sauce to continue to cook for about 1 minute.
Serve with freshly ground black pepper and parmesan cheese