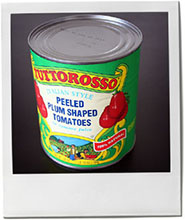 Once you can make tomato sauce, you can make tomato soup – just add stock to the sauce, and a swirl of cream for added awesomeness.
And from tomato soup it's a tiny step to minestrone, which is a much more heartening meal. Minestrone is basically a tomato broth with some kind of pulses or vegetables thrown in. It's a great place to use up those slightly tired odd vegetable ends that you have in the fridge – a bit of sliced cabbage or kale, a few green beans, a handful of peas – though I have to admit, I like the plain red version, studded (going in a slightly Venetian direction here) with chick peas.
If you have any old parmesan cheese rinds, throw a couple into the soup while it simmers. (you can freeze parmesan cheese rinds for three months – possibly longer, though I can't vouch for that because they've never hung around longer than that in my freezer)
Minestrone soup (serves 4)
2 medium onions
½ tbsp butter
½ tsp – 1 tsp sugar / tbsp of milk
1 fat clove of garlic (peeled)
1 large can or 2 normal sized cans of tomatoes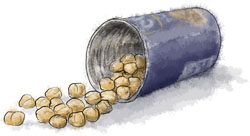 Can of chick peas
4 handfuls of ditalini pasta (any tiny soup pasta will do, or broken up normal pasta – adjust the cooking time accordingly)
2 cups of stock (I use chicken stock)
Salt and pepper
Olive oil
Dice the onions and fry in the butter with a splash of olive oil to prevent the butter burning. Season well
Once the onions are soft and sweet (about 5 mins) grate in the clove of garlic and turn in the heat Pour in the tomatoes and snip at them until they are well chopped
Add the stock and bring to a simmer, then add the ditalini pasta and the chick peas (drained well but not rinsed)
Taste the soup. If it's too sharp add some of the sugar. Taste again. If it's still too sharp, add the tbsp of milk (it helps to balance the acidity). If the soup feels too thick, add a splash of hot water or extra stock
Let the soup simmer until the pasta is cooked (about 5 mins)
Serve with lots of parmesan grated on top, and some crusty bread for dunking.