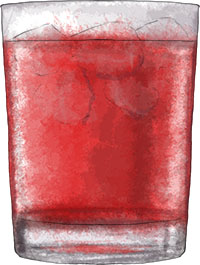 My sister and her boyfriend Matt are in town for the week, and we have been out on the terrace for drinks, and it didn't feel like a punishment.
This was an unexpected treat – when I spoke to her a week ago I was predicting chilling winds, essential gloves and misery on the boat ride to the Statue of Liberty.
But since then, the weather here in New York has been veering wildly from the kind of days when Jon comes home from the office and puts on shorts, and the kind of days when you think it's going to be nice out and don't bring a jacket, then end up buying a cheap pashmina to prevent freezing to death on the way to work.
And so we've been tucking into the campari and sodas, but craving warming food that counters the edge in the evening air.
These mozzarella bites do the job. They're creamy, crispy, adorably mini, and the warm tomato sauce is the prefect accompaniment.
Crispy mozzarella bites with tomato sauce (serves 4)
2 medium onions
½ tbsp butter
½ tsp – 1 tsp sugar / tbsp of milk – these are both ways to bring out the sweetness and reduce the acidic rasp of the tomatoes. Canned tomatoes seem to usually need some help.
1 fat clove of garlic (peeled)
1 large can or 2 normal sized cans of tomatoes – I use whole plum tomatoes and chop them in the can by wiggling my knife around. My brother-in-law once worked at a tinning factory and tells me that the tomatoes that weren't good enough to be canned whole went into the chopped and crushed tins, so I've fastidiously avoided them since.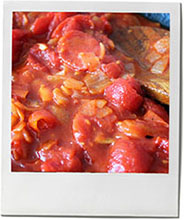 16 – 20 mini mozzarella balls
1 egg
¾ cup panko breadcrumbs
Olive oil
Vegetable oil
Salt and pepper
Dice the onions and fry in the butter with a splash of olive oil to prevent the butter burning. Season well
Once the onions are soft and sweet (about 5 mins) grate in the clove of garlic and turn in the heat Pour in the tomatoes and snip at them until they are well chopped
Let the sauce simmer on a low heat for about 5 mins while you deal with the mozzarella
Whisk the egg and tip into a shallow saucer or bowl, tip the panko crumbs into a similar bowl and season well.
Dip each mozzarella ball into the egg, then the panko crumbs, so that they are completely coated
Heat about 1 cm of vegetable oil in a pan until a bread cube dropped in sizzles and browns
Fry the mozzarella balls in batches, taking care not to overcrowd the pan. You can do this in advance and heat them up again in the oven when you want to serve them
Taste the sauce. If it's too sharp add a tsp of sugar (the tomatoes often need sweetening up). Taste again. If it's still too sharp, add the tbsp of milk (it helps to balance the acidity)
If you prefer smooth sauces, blend carefully, then transfer to a bowl
Serve the mozzarella balls along side, with cocktail sticks for ease of dipping