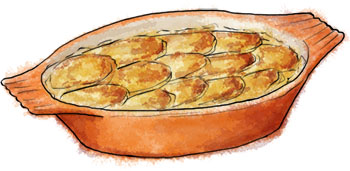 Dauphinoise potatoes are among life's great pleasures. They also happen to be one of my husband's favorite things to eat.
Layers of potato are baked with butter and cream until they're soft and melting, perfect alongside a seared mustard pork chop – comforting bistro food for a fresh spring night.
They were one of the first things I learned to make at cookery school – probably because we'd been practicing knife cuts on various vegetables and had a lot of Yukon Gold to use up somehow. I had never seen so much cream go into a savory dish in my life. But once I'd got over the shock, I was ready to float away on the luxuriant taste. Now I cut the cream half and half with milk, and honestly don't think it makes very much difference to the taste, but if you want to experiment for yourself, happily be my guest.
My dad used to make a version of dauphinoise potatoes a lot when I was growing up. In fact, it was his standard Saturday lunch, most usually served with bacon and pickled beetroot, which stained the potatoes vivid Barbie pink. He never used cream, preferring a lighter combination of milk and water. Sometimes he layered in a thinly sliced onion. And that's the way my Grandma makes it too – I'm sure she didn't have lightness in mind when she chose milk and water, thriftiness, possibly – a seemingly English interpretation of the French classic.
On a side not, there is a French dish -  a peasant version of dauphinoise – that's made with chicken stock instead of cream. It's also good, but it's not the same thing at all.
Meanwhile, back in New York a friend of ours is studying at the Culinary Institute and invited us round to reap the benefits of her chicken boning practice. She served a bubbling pot of these potatoes alongside.
Dauphinoise potatoes (serves 4)
These quantities are more of a suggestion – very much depending on the dimensions of your pot. I usually eyeball quantities – the cream / milk mixture should just cover the potatoes.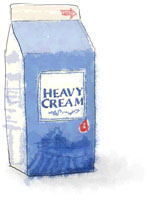 1 lb potatoes (I use King Edwards when I can get them)
150 ml cream
150 ml milk
2 tbsp butter
Salt and pepper
Peel and slice the potatoes thinly into disks. If you have a mandolin this is where it really earns its keep
Mix the cream and milk in a jug and season well
Butter a baking dish and arrange one layer of potatoes. Dot with butter, season, then add another layer, repeating until all the potatoes are used up
Pour over the milk / cream mixture
Bake for 1 hour – 1 ½ hours depending on the depth of the layers in the dish (the deeper it is the longer it will take to cook – test by poking with a knife – the potatoes should be very soft)
Let stand for 10 minutes before serving
This dish tastes great made and cooked in advance, then heated up in a medium oven until bubbling hot
Pork chops with mustard (serves 4)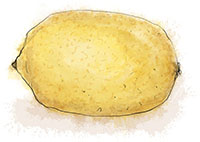 4 boneless pork chops (1 per person)
1 tbsp olive oil
2 tbsp grain mustard
1 tsp of butter
Juice of 1 lemon
Salt and pepper
Put the pork chops into a zip lock bag and smash them with a pan / rolling pin / hammer until they are about 1 cm thick
Pour in the lemon juice, the mustard, 1 tbsp of olive oil and season well. Let the pork marinate for 5 mins
Heat up the remaining  tbsp of oil in a frying pan with the butter (the butter gives great flavor, the oil stops it burning). Cook the pork chops for 3- 4 minutes per side. Let rest covered with foil for 3 – 5 mins before serving