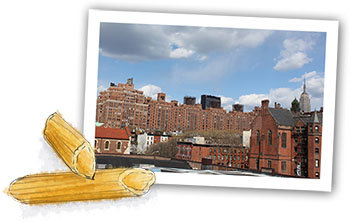 Despite spending quite a lot of time in Italy, I had never heard of penne alla vodka until I first came to New York.
I sublet an apartment through Craig's List, and the plan was that I would meet the owner's friend there to get the keys. I'd paid up front. Three month's rent to a total stranger on the internet.
As the taxi ploughed through the traffic from the airport at what felt to me like 3 in the morning I became increasingly afraid. I was a mug. Clearly there would be no apartment. Why would there be when gullible English girls will pay you money up front on the basis of a couple of photographs?
"Does this address make sense?" I asked the taxi driver. "It's not in the middle of the river is it?"
"Nah," he replied. "There's a building." Good news thus far.
And amazingly the friend of the owner was there to meet me with a whole bunch of keys and we lugged my suitcase inside. "Oh, just so you know," she said. "This is a totally illegal sublet. It's really important that the management company Never Finds Out you're doing this, so try to keep a low profile and if anyone asks, can you say you're Melinda's British cousin staying for a while?"
She was so confident, so matter-of-fact about it, and I was so jet lagged, so beyond reason and too fragile to voice my concerns. An Illegal sublet? I was horrified. I had paid all this money and now I'd be sneaking in and out like I had no right to be there. I didn't know how common a situation this was in the city. It took some getting used to.
I took detailed notes on how to work the television (three remote controls – why?), then I was left alone to scope out my new place. That I had paid for, but wasn't really supposed to be living in. Obviously I needed a cup of tea. And that would mean going to the store.
I took a deep breath, summoned up my courage and my poor jet-lagged body, and slunk past the doorman, returning quarter of an hour later with a bag of shopping.
And that's when things took a slight turn for the worse. I looked up at the building. My heart sank. Was I door 3 or 4? Or even door 5? I was floor 11, but what number was I? Actually, 11. Did that sound right? Maybe it was 12 …
of course, I had left the bit of paper with my address and the phone number of the owner's friend, along with my cell phone and in fact, all my belongings, in the mystery apartment.
I hovered around the entrance for a while, panic mounting, then I wandered up and down the street feeling conspicuous and suspicious. I was sure the doormen were watching me, ready to report my illegal subletting activities to the police. I would lose the apartment. I would lose all that money. I would be deported. Probably after I'd been sent to prison. I started to whimper.
I decided to get some dinner and take a fresh look at the situation later.
There was an Italian restaurant on the block. I sat down next to a couple who were both tucking into something that smelled divine. I didn't need more uncertainty in my life. I didn't even look at the menu. "I'll have that, please." It was penne alla vodka.
Creamy, tomato-y, slightly tangy, thoroughly delicious.
Half an hour later I remembered my apartment number. Half an hour after that I was asleep in bed.
Truly this is the pasta that bolsters, comforts and seduces. A dish that makes you feel loved when you eat it, irresistible in that Lady and the Tramp way, simple, reassuring, confident sexy food.
Penne alla Vodka (serves 4)
If you've made this tomato sauce you'll find it really easy to make this
2 medium onions
½ tbsp butter
½ tsp – 1 tsp sugar / tbsp of milk – these are both ways to bring out the sweetness and reduce the acidic rasp of the tomatoes. Canned tomatoes seem to usually need some help.
1 fat clove of garlic (peeled)
1 large can or 2 normal sized cans of tomatoes – I use whole plum tomatoes and chop them in the can by wiggling my knife around. My brother-in-law once worked at a tinning factory and tells me that the tomatoes that weren't good enough to be canned whole went into the chopped and crushed tins, so I've fastidiously avoided them since.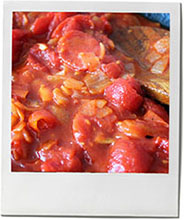 approx 2 tbsp vodka (a quick splash)
Salt and pepper
Olive oil
Packet of penne
Bring a large pan of water to the boil
Meanwhile, dice the onions and fry in the butter with a splash of olive oil to prevent the butter burning. Season well
Once the onions are soft and sweet (about 5 mins) grate in the clove of garlic and turn about in the heat
Pour in the tomatoes and snip at them until they are well chopped. Let the tomato sauce simmer
Salt the pasta water liberally (it should be as salty as the Mediterranean, which to my mind feels like a couple of tsps.) Throw in the spaghetti, stir, then let it boil for 1 min less that the instructions on the box, so that it is nicely al dente
Taste the sauce. If it's too sharp add some of the sugar. If it's still too sharp, add the tbsp of milk. If the sauce looks like it's getting too thick, add a little bit of pasta water
Once the pasta is cooked drain it, but not too well (a bit of water helps the consistency of the sauce), and add the pasta to the sauce
Pour in the vodka and let it bubble for about 1 minute
Serve with lots of parmesan cheese and black pepper
For a creamier sauce (I've had creamy versions at several Italian restaurants) add 1/4 cup marscapone or ¼ cup of cream to the tomato sauce mixture when you add the vodka.
Adding lardons or bacon to the pan (onions first, then bacon then garlic, then tomatoes) can also be delicious.
If You Can Make That You Can Make This