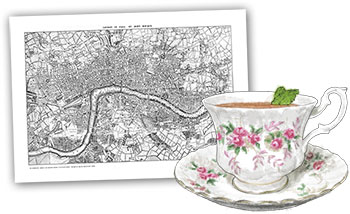 Back in London, back to beautiful spring weather – suck it New York – and back to proper tea.
I hadn't realized the extent to which I had gone native in America. Starting the day with a latte, picking up coffees on the way to work, meeting people in Starbucks, choosing iced-decaf as a water alternative for choir rehearsals – it's as though I'd forgotten about the greatness of Earl Grey.

So, fully caffeinated up, I'm ready to appreciate the Royal Wedding. I've already read three magazine specials and watched two documentaries. Â I've got my commemorative tea towel and my fake engagement ring. I'm all set.
But for me, frankly, this is not The Wedding.
Not even close.
My cousin Helen is marrying Chris this week at a beautiful church in Lancashire. My Grandma is beside herself with happiness. Weddings, apparently are just like buses. You wait all year for one then two come along at once.
In preparation my Mum, my sister and I rooted through the wedding hat collection, testing fascinators versus straw versus full on hats then went rushing out to BHS to look for a hat / fascinator hybrid in a very specific shade of purple, which we, unsurprisingly, failed to find. I think it's fair to say that we left the house in a spirit of wild and enthusiastic hope, and returned more in tune with the realities of modern life.
Which all adds weight to a theory that's I'm working on; that where romantic notions lead, gin often follows.
I first drank a tea / gin cocktail at a pre-Oscars party in New York, which was themed around the various nominated movies. This represented The King's Speech. There's gin, there's earl grey tea, there's mint, you can make up a pitcher in a tea-pot and serve it in teacups – it's like Fortnum and Mason in drink form.

London Ice Tea (per serving)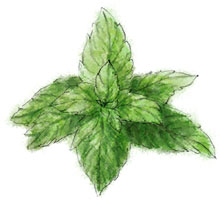 1 measure of gin
1 measure chilled earl grey tea
1 tsp sugar (to taste)
Lemon
Mint sprig
Mix the gin, tea and sugar, squeeze in some lemon, then stir in sugar to taste.
Garnish with a mint sprig

Cucumber sandwiches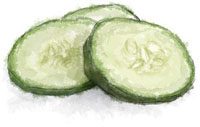 1 English (hot house) cucumber
Good unsalted butter
Great white bread
Salt and pepper
Butter slices of good white bread
Slice an English cucumber very thinly, then lay slices over the buttered bread
Season, then sandwich
Slice into three long thin strips