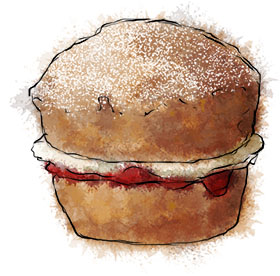 "That's right," said the man in front of us in the line for the tills in Selfridges. "A Buckingham Palace jelly mold".
My sister and I exchanged glances.
"I called yesterday to see if I needed to put a hold on one, and the person said no, you had lots of them, so I came in after work but they'd all gone! So I said, if you find another one or get another order, call me and I'll come back. And there's a message from you on my answer machine, saying you've got one for me, so here I am."
The woman behind the till considered this for a moment with a serious expression on her face. "I'll check" she said, in a tone that suggested little hope. Then she abandoned the rapidly expanding line of potential purchasers and walked off.
Of course, this being Britain, where we really understand queuing as a metaphor for life, we waited stoically, in dead silence, shuffling a bit, avoiding all eye contact. We hung about some more. And eventually the woman returned with an intricate plastic model of the palace, complete with balcony for kissing, sized for gnomes, ready and waiting for jelly.
The man beamed like a pumpkin on Halloween and handed over his card, then, obviously feeling that he owed us an explanation, turned to the queue and said; "It's for my Royal Wedding party. It's going to be the centre piece of my dessert table. In fact it's going to be the only dessert children can eat – everything else has booze in it. There is no back up plan. It's essential. Who'd have thought there'd be a run on Buckingham Palace jelly molds?"
Who indeed.

But on the off chance that you like me are one of the unfortunate souls who missed out on this extraordinary piece of kitchen memorabilia, here is a back up plan – a pile of mini Victoria Sponge cupcakes.
Victoria Sponge Wedding Cupcakes (makes 8 muffin-sized cakes)
All the ingredients should be at room temperature before you start. You'll get more reliable cakes if you use scales to measure by weight rather than volume in cups. If you have a silicon muffin tray this is a good time to use it, though you can also use cake cases in a regular tin.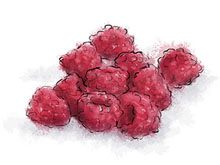 1 stick or 115g room temperature butter
½ cup or 115g sugar
2 eggs
1 cup or 115g flour
¼ tsp baking powder
½ tsp good vanilla extract
1 tbsp milk
1 cup cream
½ cup of jam (you can make a quick jam by cooking equal weights of raspberries and sugar until runny. Add a squeeze of lemon and allow to cool and set.)
Pre heat the oven to 350 (180 C)
If you're using a regular tin line it with paper cases
Beat the butter and sugar together until pale and fluffy (takes about 5 mins in a mixer or with an electric whisk)
Whisk the eggs then add to the mixture a bit at a time until incorporated
Sift the flour and baking powder together then stir in in a few batches
Mix in the milk and vanilla so that the batter is smooth and easy to drop into the cases
Spoon into the cake cases and bake for about 15 mins until the cakes are golden and a toothpick inserted into the centre comes out clean. If you have a dodgy oven (like me) turn the tray half way through cooking to try to get a more even temperature
Transfer to a rack to cool, and take off the paper cases if using
Slice the cakes in half horizontally and spread with jam and a generous dollup of cream then sandwich the top back on again
Dust with icing sugar before serving

If You Can Make That You Can Make This:
Swap the jam for lightly poached blueberries or peach slices
Or use fresh raspberries or a combination of fresh fruit and jam
Or make a full sized Victoria Sponge Cake
Or any of these cakes