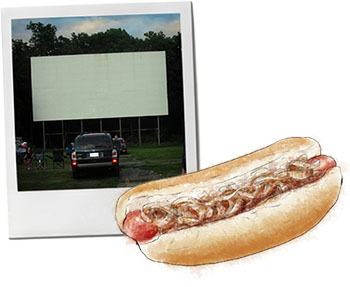 Ingyin and Yosi have a car. That's not the only reason why they're our friends, but it's pretty nice. And on Wednesday night they made one of my dreams, nurtured on a heady mixture of Sweet Valley High and watching Grease a lot on the video, come true: They took me to a drive in movie.
As we approached the field my anticipation levels rose – there was the screen, high as a billboard, there was the concessions stand with popcorn and fried dough and nachos and ice cream floats. We parked up, tuned in to the pre-show movie music and soon we were humming along to Star Wars and Magnificent 7 and ET, and when You Wish Upon A Star. Children played with Frisbees and raced after footballs,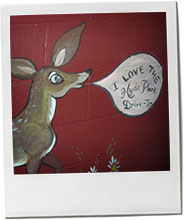 and then, as dusk fell, climbed into open trunks facing the screen and sat, legs dangling, wrapped in blankets, ready to watch.
In the back seat, Jon's hand brushed mine as we reached for the popcorn and darkness covered the field. I pulled the blanket over our knees and rested my head on his shoulder. It was about as romantic a date as it's possible to have in the back of your friends' car, while they're sitting in the front.
Last summer, in the spirit of the drive in movie, our friends Ken and Carrie rucked up a sheet over the doors to their roof and set up a projector. "Come over. We'll rent a movie. It's gonna be great!" they enthused. So over we came, with mosquito spray and a six pack, and settled in for a night of popcorn and The Girl with The Dragon Tattoo, which we were all excited about since none of us had read the book. Fewer gags, laughs and jokes than we imagined, since you ask.
A few weeks later, another movie night, and this time they were not messing around. The Goonies. Perfection.
In keeping with the celebrations this weekend, and with the mood of the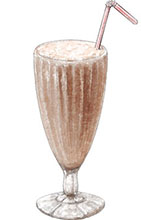 drive in, I'm going with a fancied up, but nonetheless recognizably all-American outdoor movie menu. Hot dogs – personally I'm a Nathan's girl, but if you want to go with a fancy Italian sausage that would also be good – with a balsamic onion relish, truffle butter popcorn, and malted chocolate ice cream milkshakes.
There you are, the stars are shining, you casually wrap yourself and your date in a blanket – it's the perfect recipe for romance – just don't chose The Girl With The Dragon Tattoo
Hot dogs with balsamic onion relish
You know how to make hot dogs. You boil them, or grill them (better) until cooked through (5 mins), then toast the buns. You have to have mustard and ketchup or someone will be upset, but if you want to fancy things up, try this:
1 cup of sliced onion (about 3 onions)
½ tbsp butter
½ tbsp olive oil
½ tbsp balsamic vinegar
Salt and pepper
Peel the onions, cut in half, then slice into half moons
Fry gently in the butter and oil, seasoning well. Once the onions are really caramelized – about 20 mins if you really have got them on a nice low heat – pour in the vinegar and cook until there's no liquid left
Keep warm, then use to adorn hot dogs
Truffle butter popcorn
Sure, ordinary butter popcorn is awesome too – but this, this is popcorn as a Date food with a capital D,
Malted chocolate milkshake
2 scoops chocolate ice cream (buy something good, since this is the predominant flavor)
1 cup of milk
2 tsp Ovaltine / Milo /generic Malt drink powder
Blend the ingredients together and serve in a tall glass with a straw. Essential.