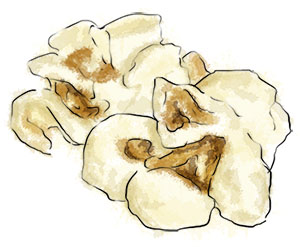 People mocked me when I told them I was going to a Justin Bieber movie viewing with Champagne. And I'll tell you what I told them; honestly, if you haven't seen the movie, you simply don't know what you're missing.
Jess made this point to her Dad, who took it to heart and also rented Never Say Never, and watched it in real time with us from the comfort of his own home. "That sure is one talented kid," he enthused afterwards. This from a man who owns a garage full of power tools. I'm telling you. Nobody mocks once they've experienced the Bieber in action.
Back when I first went to see the movie I was pretty skeptical about it, but Wendy was adamant and Jess was pretty up for it, so I bought the Twizzlers and we were on. Soon I was a Belieber.
The theater was filled with 30-something women wearing 3D glasses having the time of their lives while Justin danced, sang, played the piano, guitar and drums, tossed his hair about and generally worked his ass off for our entertainment. As light relief from this, we got to see home movies of Justin as (an even younger) child doing things like playing softball and shoveling snow in a full on ski suit. Then, best of all there were the fans.  Girls in the first throws of love; "I think about him 99% of my life!" It was adorable.
If anything, it was even more adorable second time around. I'm sure the champagne had absolutely nothing to do with it.
And so if you are planning a very sophisticated movie night of your own and you're in a drinks and snacks place, (we were in a drinks, snacks and a dinner place, so Jess made a fabulous roast chicken) can I recommend this truffle butter popcorn?
Truffle Butter Popcorn
I love the way that this popcorn mixes a fairly everyday treat with a super luxe-feeling one. It's very easy to make, smells unbelievable, and tastes amazing. Truffle butter is widely available, but if you can't find it, or don't want to buy it, you can get a similar taste by using butter and a tsp of truffle oil (which is cheaper). I always have a mini bottle of truffle oil on my shelf (great to fancy up risotto, pastas etc) so I have it to hand if the popcorn urge takes me. Not quite as good as the butter, but not bad at all.
1/2 cup of pop corn kernels (makes about 4 – 6 servings)
3 tbsp vegetable oil
1 tbsp salt (if you have truffle salt, use it)
2 – 3 tbsp truffle butter
Tip the kernels into a pan, pour in the oil and half the salt (1tsp)
Cover the pan with foil – use serious heavy foil or do a double layer -  to make a lid and cut a few holes for the steam to escape
Hold the pan above the heat so that it gently cooks the kernels (about 4 minutes.)
(Or make some plain microwave pop corn)
Melt the truffle butter and pour over the pop corn, sprinkling over the rest of the salt. Stir well to combine
If You Can Make That You Can Make This