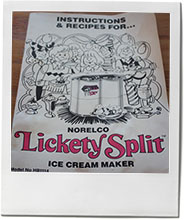 87 degrees and humid out in the city, it seemed like the moment to give the ice cream machine a whirl.
Ingyin and Yosi gave it to us last September and I'd never quite mustered the motivation to get it out of the box that I had so carefully stashed under the bed (New York living strikes again). Also, my kitchen is not exactly palatial (see illustration at top of blog), and I don't have a ton of plug sockets, so I was going to have to make ice cream on the coffee table in the living room.
Armed with this plan, I hauled out the box.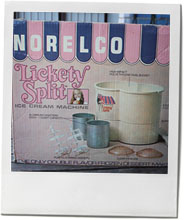 It looked kinda 70s, but what of that?
And I plugged in the machine. Which also looked kinda 70s. But that's ok, right?
"Fill the chamber with 5lb of ice and salt" read the instructions. Jon was dispatched to the store.
"Now churn the mixture for 50 minutes" commanded the instructions. The motor wailed into life, sounding as though it had be tasked with mixing cement.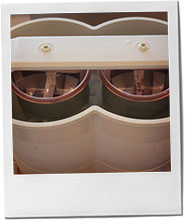 "I can't listen to this for an hour" I said, picking up my door keys and heading out for a manicure.
An hour later.
The mixture was cool, but emphatically not ice cream.
The answer? Plastic boxes in the freezer, wait for an hour, take out, grind in the processor and re-freeze. In fact, the way I used to make ice cream pre Lickety Split, but that's by the by.
Chocolate Sorbet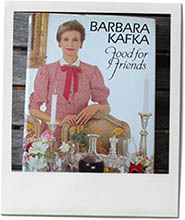 This recipe comes from a glorious book; Food For Friends by Barbara Kafka. She was the food editor of Vogue, and as dated as the cover makes the book look, her writing is incredibly modern. Times have changed. Smoked fish patés grace our tables far less than they used to, but allowing for that, there are plenty of fantastic food ideas to try out. Chocolate Sorbet is one such.
4oz Good Chocolate (this is the main flavor of the sorbet – it really has to be good)
1 Cup of Sugar (Barbara uses 1 1/2 but I find it a bit sweet for my taste)
1 Quart of Water
1 tbsp of liquor (Cointreau, Amaretto …)
 
Heat the sugar and water until the sugar is fully dissolved.
Crush the chocolate in a processor, or chop finely and add to the hot sugar syrup
Heat until all the chocolate is incorporated smoothly (don't boil). This should take about 10 mins
Add 1 tbsp of Cointreau or rum or Khaluah or Frangelico or Amaretto (it's really good) to taste, then pour into an ice cream machine and follow the manufacturer's instructions. OR,  pour into tupperwear, freeze for an hour, scrape into a processor, blitz, then freeze again.
If You Can Make That You Can Make This
Change the liquor to change up the flavor
Use flavored chocolates – Mayan Gold by green and Blacks is incredible
Add 1 tbsp of coco powder to the hot chocolate mixture and stir to incorporate, then off the heat, add ¾ cup of cream to make chocolate ice cream