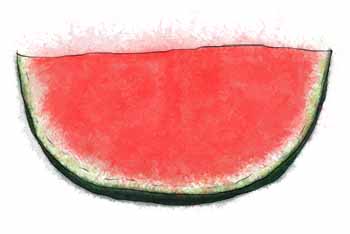 It's a well known piece of folk wisdom that we should make hay while the sun shines. I like to amend this to "eat watermelon while the sun shines." Philosophers may want to argue the toss, but it's a pretty fair guess that summer will not be with us forever.
Impossible as this is to really believe, here in the dog days of August, Labor Day is just around the corner, magazines are full of cashmere and coats, and in just three of four weekends time, ice cream will not seem like a necessity to daily life and marital harmony.
This is the time to wear white while it's still acceptable to do so, and sit in beer gardens, and have picnics and walk on the Highline and appreciate shorts and flip flops in an urban setting.
Here's my NYC-centric summer to do list. What's on yours?
Watermelon Sorbet
The Campari tip came from my friend Hilary, who is the owner of an outré liquor cabinet. You want to drink maraschino cherry sours? She's got them. Cointreau and Grand Marnier and Triple Sec? Check. So when she tells me she's tested out a good range of watermelon / booze combinations and this is the best one, I'm inclined to take her at her word. And I love the sharp sour hit of Campari – usually over ice with soda, so I had it to hand, ready for experimentation. It gives the sorbet a deeper sour citrus note, and if it's possible, makes it an even prettier pink.
For a very quick sorbet, freeze the melon cubes, then blend with a pinch of sugar and a splash of Campari – serve in a cocktail glass with a teaspoon. But for the real deal: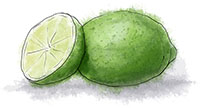 4 cups watermelon puree (which is about 5 lbs of watermelon blended)
Juice and zest of half a lime
¼ cup sugar
½ cup light corn syrup
2 tbsp Campari
 
Heat 1 cup of the watermelon puree with the sugar, whisking until the sugar dissolves
Add the rest of the puree, the lime and the corn syrup and whisk to combine
Take the puree off the heat and add the Campari
If you have an ice cream maker, pour the mixture in and proceed according to its instructions. Otherwise, pour the mixture into a plastic container and freeze for 4 hours (or overnight)
Let the frozen mixture stand at room temp for a few minutes to soften slightly, then process (or blend) and freeze again