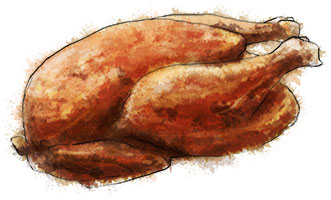 "Just older, not wiser," was Alan's take on turning 40, as we sat down to – what else – chicken with 40 cloves of garlic and a bottle of champagne.
But luckily, I had a wisdom experience going spare from earlier that afternoon when I'd popped out to Morton Williams to buy birthday candles.
"We're visiting the city for our 10 year wedding anniversary," announced the woman in line in front of me, apropos absolutely nothing.
"Wow, that's something," enthused the woman on the check out hardly at all. "So tell me, is it normal to want to kill your husband? Coz I'm not even married to him yet, and I want to kill him just about every day."
We all shared a world weary sort of laugh, and got on with paying / ringing up / loading the belt with birthday candles respectively. "When are you getting married?" asked Anniversary Lady.
"At Christmas. Unless I murder him first." Again, we all exchanged wry smiles. Anniversary Lady left. I paid for my candles. It seemed the drama, such as it was, was over for the day, but then, just as the receipt was printing out, Anniversary Lady returned looking serious to the point of slightly tearful.
"Listen, I have to tell you something," she said to the cashier. "Being married takes a lot of work and effort, so if you feel like you want to kill your fiancé now, you shouldn't marry him. Seriously. Don't get married to a man you want to murder. That's not what marriage should be like at all. It's just – well – I feel like you were probably joking, but I couldn't live with myself unless I told you; in marriage you gotta really want to do it, and you gotta take it really seriously. Otherwise, you shouldn't bother."
"Oh no," said the cashier, totally non-plussed, "it's a good sign for me. If I don't care about you, I probably wouldn't pour my drink over you if you were on fire. If I actively want to kill you, that's a good sign."
"Feeling wiser now?" I asked Allen.
"Totally."
Chicken with 40 Cloves of Garlic (serves 4 – 6)
The classic French dish calls for chicken pieces, but because a roast chicken always seems more celebratory to me, I went with that. There's some discrepancy in recipes as to whether the garlic – and yes, there really are 40 cloves – should be peeled or not. I see the argument against – the garlic steams in the paper and sweetens. On the downside, you then have a sauce full of bits of garlic paper. I feel that the long cooking time softens up the cloves enough without the paper, so I peel them first, or, better still, but them peeled already in plastic pots at the supermarket.
Also, this dish doesn't taste nearly as garlic-y as you would imagine. It's more a sweet deep flavor, rather than a pungent garlic-bread garlic flavor -that's the magic of slow cooking I guess.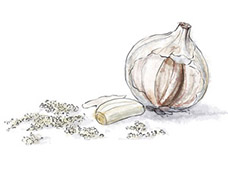 1 plump chicken at room temperature
1 medium onion
40 cloves of garlic
2 tbsp room temperature butter
2 tbsp olive oil
¼ cup brandy
1 ½ cups of white wine (approx)
¼ cup cream
5 sprigs of thyme
salt and pepper
If you have a le Creuset type pot, this is its moment, otherwise, use a frying pan, then transfer to a roasting dish
Preheat the oven to 425f
Pour a splash of olive oil into the le cruset or a frying pan and heat gently. Peel the garlic and add. Cook for 5 minutes until the garlic is browned but not burned. If it burns the whole dish is going to taste bitter, so keep an eye on it and use a gentle heat
Pour in the brandy and scrape up any brown bits into the sauce. Add the wine. If you've been using a frying pan, pour all of this into a roasting pan
Pat the chicken dry with paper towels, then lift up the skin around the breast being careful not to tear it, and smoosh the butter between the skin and the meat. Rub any remaining butter all over the chicken, and drizzle with a little olive oil. Season well, especially with salt
Slice the onion into thick rings and lay in the pan. Put the chicken on top (the onion is a kind of natural trivet keeping the chicken up a bit out of the wine)
Scatter the thyme around the chicken, then roast for 1 ½ hours, by which time the juices should run clear at the thickest part of the thigh. Check after an hour and cover with foil if the skin looks like it's starting to burn a little
Transfer the chicken to a board and let it rest under foil while you make the sauce
Add a little more wine to the juices in the pan if necessary (conversely, if the sauce looks too thin, boil it to reduce a little), then add the cream. Stir to combine – if the garlic breaks up into the sauce, that's fine
Carve the chicken, pouring over a little sauce to keep the slices moist, then serve with some crusty bread and a bright green vegetable (I quickly boiled some asparagus tips and peas)
If You Can Make That You Can Make This