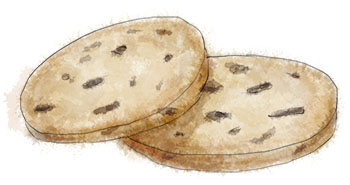 July was a month of ice coffee. I made ice cubes out of espresso and milk (coldness without dilution), and I've hardly been without one since; walking to work, morning booster, afternoon pick me up, and even decaf versions at night. I've used a straw so much I've pretty well forgotten how to drink out of a cup.
It's too much and it has to stop. Husband Jon, who's been away in Scotland celebrating his dad's birthday, returned to the city and immediately noticed: "You could just get a drip" he helpfully suggested.
And so, to tea, specifically in the middle of a heat wave that's showing no signs of abating, ice tea, which I make with Earl Grey, lots of lemon, and lots of mint. And where tea leads, biscuits will surely follow.
My Aunty Audrey had elevenses every day. She'd stop. Make tea. Sit down. Have a biscuit. Then go back to the day refreshed. My Grandma too, doyenne of the coffee morning (notthat anybody ever drank coffee – no, tea all the way) would stop at 11 and eat a pink wafer biscuit. It was more than a
ritual, it was almost an essential. Of course now, much like cocktail hour, it's a moment in time that modern life has ridden roughshod over, filling our days with absolutely essential things that absolutely have to be done right this minute. It's a shame.
And as much as I'm a big fan of the reclamation of the occasional pre-dinner fancy drink, I'm on the lookout for opportunities where I can add a mid morning stop, regroup, cup of tea into my life.
On such an occasion, this shortbread, scented with lavender from the balcony, is an elegant choice.
Lavender Shortbread
You can make this in one large tin or, as I do, individual cookies. If you're using a tin, use a knife dipped in cold water to help you smooth the dough, then sprinkle the top with caster sugar and bake at 250f for 1 1/2 hours until pale and golden. Keep an eye on it. Score when warm and slice cold with a sharp knife.
125g flour
100g ground almonds (if you don't have any ground almonds, just use 225g flour)
50g sugar (super fine or caster)
175 g butter (cold)
1 tbsp lavender flowers
 
Pre-heat the oven to 250f
Dice the butter, then tip all the ingredients into a bowl and rub together until you've made breadcrumbs
Press the breadcrumbs together into a dough
Flour a board, then roll out the dough to about ¾ cm thickness
Carefully stamp out circular cookies (you'll probably need to flour the cutter, and use a spatula to get them off the board), and place on a baking tray – they're not supposed to spread much, but leave a bit of room, just in case
Bake the cookies for 10 minutes, by which time they should be pale brown – adjust the time according to the thickness of the cookie – keep an eye on them
Cool on a rack, then eat
If You Can Make That You Can Make This
Use chopped fresh rosemary instead of lavender
Or add chopped hazelnuts
Or finely diced stem ginger
Or grated lemon zest and chopped dried cherries