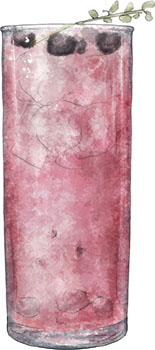 A happy respite from the 100 degree heat in the city brings my friends out on the balcony to drink cocktails and watch the setting sun reflect in the windows.
"I always forget how nice it is up here" says Ken ruffling the basil plant with his hand so that the perfume fills the air. "I really miss that" (he's recently moved to a larger place with no outdoor space).
"Still," I say, "it must be good to have a bedroom that isn't also a kitchen" (New York living strikes again.)
"Yeah. I suppose. But I still miss the roof." We sip our drinks reflectively.
Some herbs have become balcony powerhouses.
The basil, for example. In constant use on pizzas, in pesto, in salads, as a marinade, in cocktails. The mint. Mojitos, Greek salad, stuffed into pittas with chicken and red onions. The parsley and cilantro – essential in salad dressings, sauces, as a salad leaf in tacos and wraps. Then there's the thyme.
I'm not sure why I planted so much thyme out on the balcony, since its really not a herb that I use all that often in cooking, so it was with much excitement I came upon this Giada de Laurentis cocktail recipe. She infuses an apple sugar syrup with fresh thyme leaves, then uses it to make a Collins – traditionally gin, lemon and soda water – adding blueberry jam for extra sweetness and prettiness.
Since I tend to like my drinks a little less sweet, I use fresh blueberries, which are on sale on fruit stands all over the city at the moment, ripe and juicy and ready to go.
Blueberry Thyme Collins (serves 4)
For the apple thyme syrup: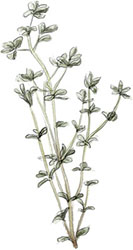 20 sprigs of thyme each spring about 4 inches long)
1 cup sugar (I use super fine because it dissolves really easily)
1 ½ cups apple juice
 
Crush the thyme springs in your fingers, then put everything in a small pan
Heat until the mixture starts to boil, swilling the liquid to help dissolve the sugar
Simmer for 4 minutes, then chill thoroughly
Now for the cocktail: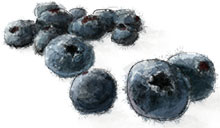 1 1/3 cups apple thyme syrup
1 cup gin
¼ cup lemon juice (about 1 large lemon worth)
½ cup blueberries or ¼ cup blueberry jam
Club Soda
 
Muddle the blueberries (reserve a few for garnish) in a cocktail shaker, add some ice and pour in the syrup, gin and lemon (unless you have a super-sized shaker, this might take 2 batches)
Shake, then pour into glasses
Add ice and top up with club soda, then garnish with a blueberry
Herbed Goat Cheese Crostini
4 oz cream cheese (about half a small carton)
5 oz soft goat cheese
½ clove of garlic
1 tbsp chopped fresh parsley
1 tbsp chopped fresh basil
Pinch of chopped fresh thyme
3 tbsp milk
1 ficelle or ½ a baguette
Salt and pepper
 
Put the cheese in a mixer with the minced herbs and 2 tbsp of the milk, then grate in the ½ garlic clove and season well with salt and pepper
Mix until soft and combined – if the mixture is stiff, add the other tbsp of milk – you need to be able to spread it
Slice the ficelle or baguette into disks on the diagonal this gives you a greater surface area for the spread and it looks prettier)
Toast in the oven for 3 – 4 minutes a side at 350 until golden
Serve with the goat cheese for spreading
If You Can Make That You Can Make This
Use the goat cheese mixture to top slices of cucumber
Serve with crudités – it's really good with apple slices and celery
Pipe intogougères