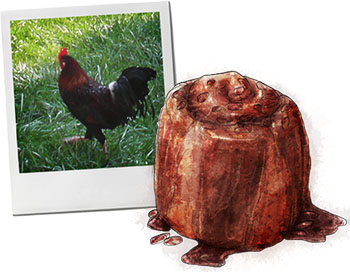 The cinnamon buns really got me.
We ate them on a swingy bench outside the Amish bakery, licking sweet icing off our fingers as a picturesque cockerel crowed and chickens scratched and a goat chewed up the garden. It was perfect. But then the buns were gone, and we drove back to New York and I was left a little bereft.
Clearly, I would have to find a way of getting hold of these buns without having to drive 4 hours to Pennsylvania any time I wanted them. There would be a lot of problems if that was the plan. Foremost – I don't have a car.
So I started with the postcards that I picked up in the bakery gift shop. Now usually, I wouldn't trust a recipe on a postcard. But these were Amish recipe postcards, and the Amish are honest folks, right? They wouldn't mislead me with a duff recipe, right? I'd have had slightly more confidence had the two recipes not been very different.

A happy afternoon of testing occurred, and a number of other cookery books were consulted before I decided upon a combination of recipe postcard 1 and a good housekeeping magazine article from the late 90s.
Now it pretty much goes without saying that these are very special buns. People who eat them will adore you for it. Total strangers who smell them from your kitchen window will bring you flowers just to get a bite. If you're waiting for a reluctant boyfriend to get the hell a move on and propose already, wear an apron and heels, bake these and tip the balance. But I'm not going to lie to you. They take a little effort.
This is an afternoon in the kitchen project. There's nothing complicated or difficult about it, take it step by step and don't let the undertaking freak you out. It's proper old fashioned cooking, with a gentle rhythm that can't be rushed.
Cinnamon buns
For the Dough:
1/4 cup butter
1/4 cup sugar
1 packet of dry yeast
1/4 cup warm water
1 tsp kosher salt (3/4 tsp regular table salt)
1 cup milk
1 egg
1 tsp grated lemon zest
1/4 tsp nutmeg
1/2 tsp cinnamon
4 cups flour
 
For the Filling:
1/4 cup butter
1 tablespoon cinnamon
1/2 cup brown sugar
 
For the Topping:
3/4 cup packed light brown sugar
4 tbsp butter
3 tbsp honey
1 tbsp light corn syrup
1 1/2 cups chopped pecans
   

 
Start with the dough.
Heat the cup of milk until it's just about to boil, then take it off the heat and let it cool to 100f (which is warm to the touch)
Measure out the 1/4 cup of warm water from the tap, (warm means you can stick your finger in and it's not too hot). Sprinkle the yeast on top, stir in and leave to activate
Put the butter, salt and sugar in a large bowl (mixer bowl for preference) and pour over the warm milk. Stir to combine, then add the yeast mixture, as soonas it starts to bubble and look spongy (a couple of minutes). If it doesn't start to smell, bubble and look spongy you may have out of date yeast, or too hot or too cold water. Try again
Add the egg, the lemon, nutmeg, salt and cinnamon, then start the dough hook going (or start mixing by hand). Add the flour gradually until you have a dough.
Let the dough knead for 10 mins in the mixer, or knead by hand for about 20 mins
Put the dough in a greased bowl and cover with a clean cloth. Leave in a warm place to rise until doubled in size (about 15 mins) Punch down, re cover and let rise again until doubled in size (another 15 mins)
Meanwhile, get the topping going:
Grease your baking tin – I used a throwaway brownie pan, which is great for washing up, but in the spirit of Amish, you'd use a 10 by 13 tin.
Toast the pecans in the oven (300f ish) for about 4 – 5 mins, checking that they don't burn. Scatter in the bottom of your tin, then add the rest of the topping ingredients and mix around until evenly coated
Bump the oven to 350 – it's the temp we need to bake the buns
Back to the dough, which should now be doubled in size for the 2nd time:
Lightly flour the surface, dump out the dough, then roll out into a rectangle. I wanted to make small buns, so I cut the rectangle in half lengthwise
Mix the filling ingredients together, then spread over the dough
Roll up the dough lengthwise, then cut the rolls into little buns
Arrange the buns in the tin (you may have a few left over, depending on the size of your tin and the size of your rolls)
Let the buns rise in the tin for 10 – 15 mins, then bake for 20 – 25 mins until golden and puffed. Cool for 10 mins, then turn out upside down, so the nuts are on the top
Eat warm (or warm in the oven before eating on another occasion)