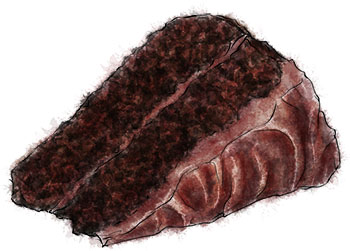 It was Jon's birthday this weekend, which brought with it the usual scheduling nightmare that seems to be endemic to modern life. Jess could not do Friday. Jeremy could only do Friday. Ken could do any day, as long as the dinner was in Maine.
Nonetheless, celebrations occurred, Jonathan joined the iPhone generation, and then there was cake.
Jon's mother Sheana is a great cook. She regularly grows her own vegetables, turns them into soup, and bakes some bread to go with it for a low key mid week lunch. This puts my own I am a picture of domesticity; see me grow rosemary and put it in vodka to make rosemary vodka antics into perspective.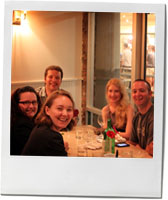 So I emailed her for the her birthday cake recipe, and also to ask, why has the bean that we planted started growing purple flowers instead of beans.
"Dear Kate,
How lovely to hear from you. It's definitely not a bean."
And here is her recipe.
The Family Birthday Devil's Food Cake
By Sheana Roberts
"(adapted  from the original Good Housekeeping recipe I got as a cookbook from my Granny when I was 21!)
275 g plain flour – and replace 1 heaped tbsp of this with the darkest cocoa powder you can find ( I use Green & Blacks)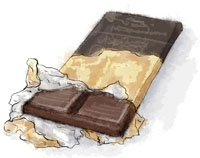 2 level tsp bicarb of soda
small pinch salt
3 oz soft butter
250 g (or a little less) soft light brown sugar
4 large eggs
100g v dark chocolate (70% if you can get it)
200 ml milk
1 tsp vanilla essence
 
Grease and line 2 x 8″ sandwich tins
Melt the choc in the milk. I do this in the microwave and keep back some of the milk and add it cold after the choc is melted so the choc milk isn't too hot to add to the cake mixture. Pour in the vanilla essence.
Sift flour, bicarb, salt, cocoa powder into a bowl
Cream the butter and sugar until pale and fluffy, then gradually add beaten eggs
Fold in the flour alternately with the choc milk and vanilla essence
Divide between 2 tins and bake at 170-180 deg C / 350 ish F for 35-ish mins
Cool on racks and sandwich with choc butter icing….or?!
Hope it works out ok. It's good because not too sweet. I quite often leave out a bit of the sugar."
So I did as I was told, and the cake was perfect.
Chocolate butter cream
This is the butter cream that I usually make. It's my Grandma's recipe, which is probably from Good Housekeeping too, now I think about it.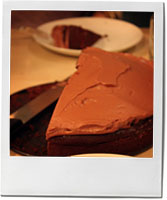 1 cup (2 sticks) soft butter
2 ½ cups confectioners sugar (icing sugar)
6 oz dark chocolate
¼ cup milk
1 tsp good vanilla extract
 
Melt the chocolate in the microwave or in a bowl suspended over a pan of simmering water
Put all the ingredients into the mixer and mix gently until combined.
Turn up the mixer and whip for 2 minutes until soft and fluffy
If You Can Make That You Can Make This
Use white chocolate in the icing instead of dark chocolate
Or make a classic Victoria Sponge – basically the same, but with no chocolate in the cake batter
Or try any of these cake and cupcake ideas