Every year our Christmas ritual takes us past Shrewsbury to the village of Edgemond, for a huge family get together involving a rotating cast of children – anywhere from 10 – 15 under tens. They rampage about in the nicest possible way while we eat lunch, then they open presents amid much excitement and occasionally a little drama; "I like PINK not PURPLE. Honestly. Do you people know me at all?!"
We walk around the village and then come home for cups of tea and entertainment – a nativity play and a rousing rendition of Away in a Manger.

There's nothing like a child being a shepherd with a tea towel on his head to really bring home the spirit of the season.
Each year brings with it some kind of awesome nativity play treat:
The year when Joseph asked the inn-keeper whether there was room at the inn and he, in a controversial re-writing of the script, said yes, he thought there probably was.
The year when Arthur would not wear his King costume, and would only dress as a lion – (apparently he wanted to be the Lion King)
The year when Nicolas wouldn't be a sheep, but would be the Nativity Tiger, a role which he took extremely seriously, curling his fingers under to make paws and growling if anyone came too close to the baby Jesus, played by Cousin Helen's very new baby Emily.
This makes it Christmas.

Pot roast beef with Shrewsbury Sauce (serves 4 – 6)
This classic British stew is the perfect companion to a bowl of buttery mash potato.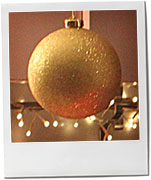 3lb brisket
1 tbs olive oil
1 carrot
1 onion
3 sprigs thyme
1 bay leaf
2/3 bottle red wine (something you'd drink, but nothing too fancy)
Salt and pepper
For the sauce:
4 tbsp redcurrant jelly (use cranberry jelly in a pinch, but don't tell Delia I said it was ok)
2 tbsp Worcester sauce
2 tbsp lemon juice (Clementine juice is also good)
1 tbsp butter
1 tbsp flour
1 tsp (heaped) English (Colemans) mustard powder
 
Preheat the oven to 350f
Quarter the carrots and onion, and put in a casserole dish
Season the beef really well, then lay on top of the vegetables. Add the thyme and bay leaf, and pour in the wine
Cover with foil and a tight fitting lid, then bake for three hours, turning the beef over every hour to ensure even cooking
Take the beef out of the dish and wrap in foil to rest and keep warm while you move onto the sauce
Strain the meat cooking liquid through a sieve, pressing down on the veg to get out all the flavor, then return the liquid to the pan and bring to a boil. Let it reduce for a few minutes
Add the Worcester sauce and the jelly and whisk until they are incorporated
In a little bowl, mash up the flour, mustard and butter (I use my fingers) to make a paste, then whisk in blobs of the paste so that the sauce thickens and turns glossy
Add the lemon juice and season well, then simmer gently for 5 minutes
Slice the beef, then spoon the sauce over, and serve some alongside in a jug for people to help themselves and pour into a cloud of mash potatoes

If You Can Make That You Can Make This
Make a simpler beef stew by coating the beef in seasoned flour and proceeding as above, but serving the meat with the pan juice as is
Or try a coq au vin