Back in the UK to Christmas the way Dickens surely intended it. Shopping in Kingston with my Mum, a curry with my sister, and a car ride to Edinburgh with a break in scenic Wigan to see my Grandparents and have a cup of tea.
But here back at Jon's childhood home, things have taken a turn for the Victorian. As I type this, for example, my husband is out in the woods with his father chopping up wood for the stove.
It's any port in a storm weather outside. It's time to hunker down and wrap Christmas presents and drink a Steaming Bishop.
I'll admit it. I was pre-disposed to love this drink the moment I heard the name.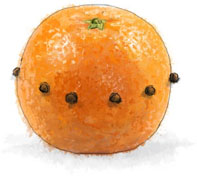 I came across this drink at a Christmas party a few years ago, when a friend used some cooking port to pep up some mulled wine and another guest said it reminded him of his grandmother's favorite winter tipple.
Apparently she was wont to drink one or two on a Sunday evening after evensong, then play the piano and sing rude words to popular hymns.
When I made and drank this, that's exactly what I felt like doing.

Makes 6 glasses
½ bottle of port
½ cup of orange juice
1 orange studded with 12 cloves
1 cinnamon stick
   
Put the orange into a medium oven for 15 minutes to roast
Pour the port and the orange juice into a pan
Heat gently with the clove-studded orange and the cinnamon stick until steaming but not boiling