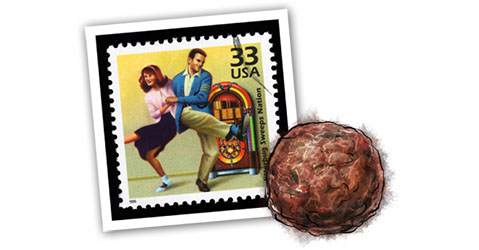 Inspired by necessity – taking 17 hours of Christmas Music off my iPod – I have been organizing my iTunes library. Out of this flurry of activity has come the Kitchen Music Playlist. Tag line: songs to cook to.
It ought to be an infomercial with an accompanying cd that you can buy for $10.99 and we'll double the offer and give you a free meat mallet, just pay postage and packaging.
Here are a few stand out hits:
The Night They Invented Champagne, Watermelon man, Chiquita Banana, That's Amore, Let's Call The Whole Thing Off, The Hamburger Hop, You're the Cream in My Coffee, Sweets for my Sweet, and My Boy Lollipop.
A quick analysis of the whole list reveals the truth: in food music, sweet – lollipops, honey, sugar, chocolate and candy in general – is King.
Which is a shame, really, because mini kofte meatballs are the kind of food that ought to inspire passion and poetry. Although, on the bright side, total gap in the market …
Kofte Meatballs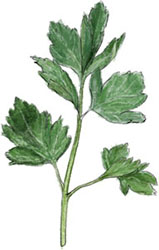 ¾ lb lean minced or ground beef
1 medium onion
½ cup freshly chopped parsley
1 tsp cinnamon
½ tsp ginger
½ tsp cumin
½ tsp coriander
1 large clove garlic
Salt and pepper
1 tbsp olive oil
 
Use a food processor to chop the onion, or dice it as finely as you can with a knife
Grate the garlic, and gently mix the meat, onion, parsley and spices, being careful not to crush the meat
Add the olive oil, which keeps the meat really moist while cooking, and season well
Roll the meat into the smallest meatballs you have patience for – I aim for something about the size of small Brussels Sprouts / pearl onions, no bigger. Put these on a slip mat, or a lightly greased baking tray and chill in the fridge for half an hour
Preheat the oven to 400f. Bake the meatballs for 15 minutes (depending on the size). They should be browned and golden and cooked right through
If You Can Make That You Can Make This
Add a simple sauce made from yogurt, fresh parsley, lemon juice and grated garlic
Use the meatballs in pitta breads to make amazing sandwiches – add red onion, parsley and the yogurt sauce
Serve over cous cous, with some roasted cherry tomatoes (toss in a little olive oil, season, and roast alongside the meatballs
Serve with pasta and a simple marinara sauce